'I'm no superpredator': #BlackLivesMatter activist confronts Hillary for 1996 claim (VIDEO)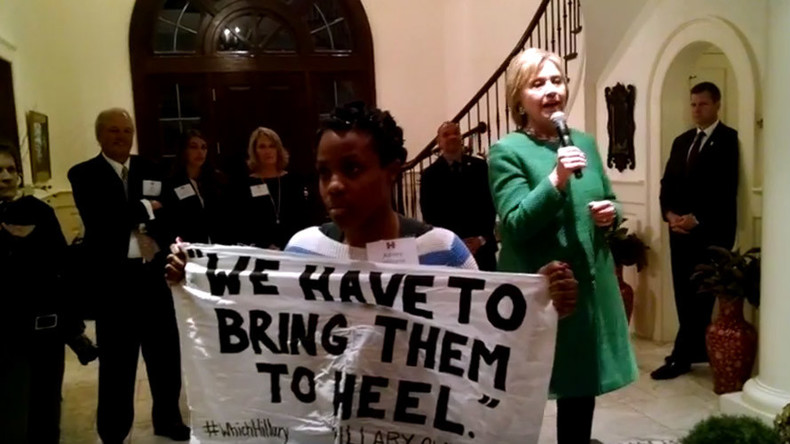 Hillary Clinton has been confronted by a Black Lives Matter activist demanding an apology for the former Secretary of State's 1996 remarks labelling children from largely disadvantaged areas "superpredators" with "no conscience" or "empathy".
The Democratic presidential candidate was attending a fundraising event in Charleston, South Carolina on Wednesday night when she was confronted by activist Ashley Williams.
As Clinton was outlining her plans for "common sense" criminal justice, Williams unveiled a banner behind the candidate bearing Clinton's own words: "We have to bring them to heel."
The surprise protest was in reference to Clinton's support of her husband's tough 1990s crime bill, referred to as the Three Strikes Bill, which expanded death penalty laws, lengthened prison sentences and is blamed for facilitating mass incarceration of the disadvantaged.
When Clinton turned to read the bold statement, the Black Lives Matter protester demanded she "apologize to black people for mass incarceration" and for the "superpredators" remark.
"You called black people superpredators. That's rude. I know that you called black people superpredators… please explain your record, explain it to us. You owe black people an apology," Williams said.
Williams and another Black Lives Matter member reportedly paid $500 each to enter the Clinton event.
In video footage of the incident, other attendees can be heard trying to shout down Williams for her protest. "That's not appropriate. This is not appropriate," one person says off camera, before Williams is led from the room by security.
Williams later explained to The Huffington Post the protest was to "make sure that black people are paying close attention to her [Clinton's] record, and we want to know what Hillary we are getting".
Social media has since pounced on the incident, and #WhichHillary rose to become the top trending hashtag on Twitter. Many pointed out what they saw as "flip-flopping" by Clinton, including but not limited to the criminal justice issues that motivated Williams to accost the candidate.
During her campaign, Clinton has tried to distance herself from the "era of mass incarceration", Time reports.
Former president Bill Clinton has sought to do the same, with CNN reporting last year that the former president admitted his legislation in 1994 wound up "putting so many people in prison that there wasn't enough money to educate them, train them for new jobs and increase the chances when they came out… they could live productive lives".