'Militia of toddlers': Iowa House passes bill allowing children to use a handgun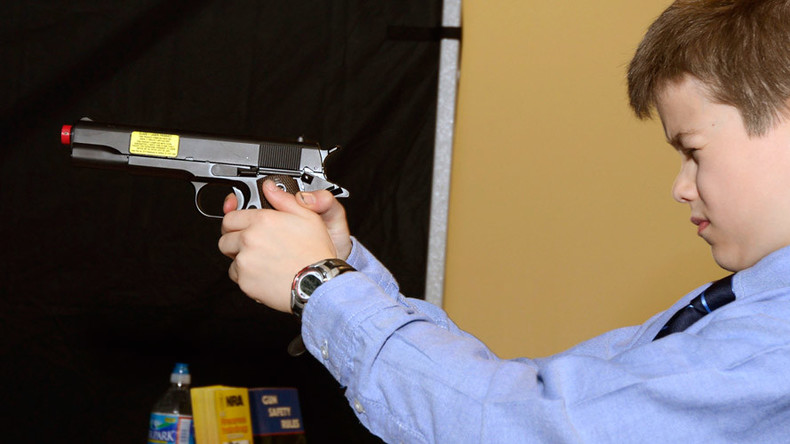 A bill allowing children under 14 to use a handgun with parental supervision has passed through Iowa's House of Representatives despite opponents' concerns that it exposes children to more gun violence.
The "Youth Safety & Parental Rights Act" was one of five pro-Second Amendment bills passed through the Republican-led House on Tuesday with some bipartisan support.
The proposed legislation allows children under the age of 14 to use a pistol or revolver under the "direct supervision of a parent or guardian" without listing any lower age limit. Current state laws allow any child over 14 years of age to handle a weapon.
Current legislation allows children under 14 to use long guns and short guns under parental supervision, but not handguns such as pistols and revolvers.
On what was described by the National Rifle Association as "a successful day for gun-owners", Republican Representative Jake Highfill said it is "one of the best bills we've done for second amendment rights", the Des Moines Register reports.
"It returns the power back to where it fully belongs," Highfill added. "Back in the hands of parents to make those decisions they are entitled to do, instead of the government."
The legislative session was attended by a number of pro-gun enthusiasts, many of whom wore orange stickers with the slogan: "I support the Second Amendment and I vote."
Democrat Representative Art Staed said such laws were not about the Second Amendment but about "putting more guns in the hands of children", while Democrat Mary Mascher noted that "every three hours in this country a child dies from gun violence".
"We do not need a militia of toddlers," said Democrat Kirsten Running-Marquardt. RawStory reports that she added: "We do not have handguns that I am aware of that fit the hands of a one-or-two-year-old."
The other bills passed allow people to carry loaded guns on snowmobiles, keep weapon permits confidential, and also prohibit any state official from being able to confiscate weapons during a state emergency. A bill that would legalize the use of suppressors was also passed.
The bills will now be debated by the Democratic-controlled Senate, which last year vetoed similar measures.