Filming police without specific purpose not free speech – federal judge
Published time: 25 Feb, 2016 02:44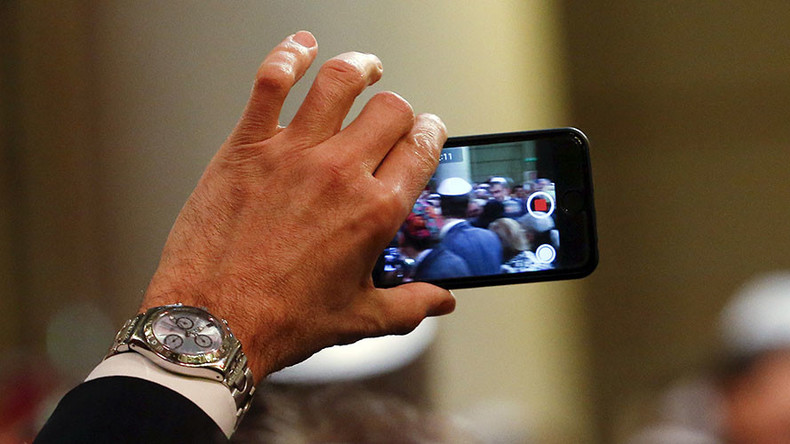 Simply filming or photographing police does not qualify as free speech protected by the US Constitution, unless accompanied by "expressive conduct," such as a challenge or criticism, a federal judge has ruled.
The law "does not recognize a First Amendment right to observe and record without some form of expressive conduct and photographing police is not, as a matter of law, expressive activity," Judge Mark Kearney of the US District Court for the Eastern District of Pennsylvania said in a ruling this month.
Kearney was weighing in on cases filed by Richard Fields and Amanda Geraci, who claimed police had unfairly retaliated against them for filming and photographing them. Geraci was filming an anti-fracking demonstration in Philadelphia in September of 2012 when an officer physically prevented her from filming an arrest. Fields, a Temple University student, was briefly detained in September of 2013 after snapping a photo of a group of police officers standing outside a residence.
"We find there is no First Amendment right under our governing law to observe and record police officers absent some other expressive conduct," the judge said in rejecting Fields and Geraci's first-amendment arguments, noting that neither was a member of the press.
Existing case law states that "it is the obligation of the person desiring to engage in assertedly expressive conduct to demonstrate that the First Amendment even applies," Kearney said, adding that "the putative speaker bears the burden of proving that his or her conduct is expressive."
The practical implications of the verdict will come down to the fact that a police officer cannot know what the intended use of the image may be, Mary Catherine Roper of the American Civil Liberties Union (ACLU) of Pennsylvania told the Legal Intelligencer.
"Anybody who makes a drawing, who takes a photograph, who makes a movie is literally creating a communication," Roper said. "We think it is the act of creating that communication that is in itself an expressive act and is protected by the First Amendment, whether or not you intend to criticize or praise or hide your light under a bushel."
Kearney, who was appointed to the bench by President Barack Obama in 2014, maintained that nothing in the existing law or Supreme Court precedents constituted a right to record police conduct "without any stated purpose of being critical of the government."
"The citizens are not without remedy," he wrote in the verdict, "because once the police officer takes your phone, alters your technology, arrests you or applies excessive force, we proceed to trial on the Fourth Amendment claims."
Illustrating his point, Kearney allowed Fields and Geraci's Fourth Amendment claims to proceed.