Bad omen: 13 dead bald eagles found at Maryland farm
Published time: 24 Feb, 2016 19:48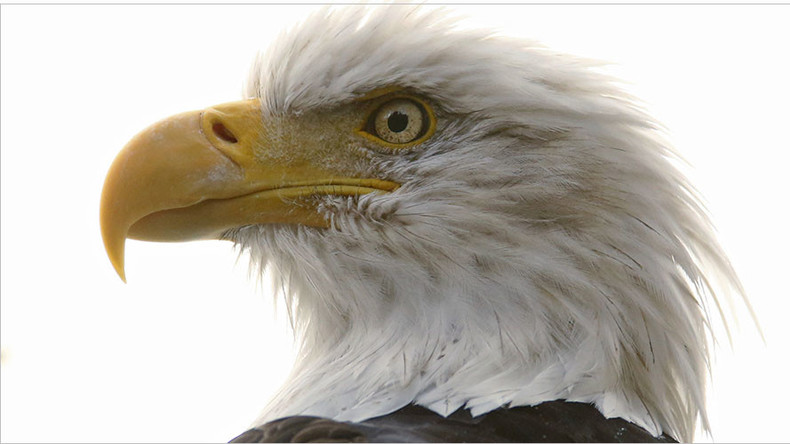 Something, or someone, killed 13 of America's iconic birds in rural Maryland, with no sign of foul play. A total of $10,000 in reward is being offered for information about the biggest bald eagle die-off in three decades.
A local man searching for deer antlers found four of the dead birds on Saturday on a farm in Federalsburg, on Maryland's Eastern Shore. Called in to investigate, officers with the Maryland Natural Resources Police (MNRP) found nine more carcasses.
The farm is located in southern Caroline County, about two hours due east of Washington, DC. The nearby 3,800-acre Idylwild Natural Area has an abundance of creeks, rivers and nesting nooks.
"This area would be prime eagle habitat," MNRP spokeswoman Candy Thomson told the Baltimore Sun. "Lots of good fishing, lots of good habitat, lots of good hunting."
The eagles were found with "no obvious signs of trauma" such as gunshot wounds, according to the MNRP. "A working theory is poisoning," said Thompson.
It is entirely possible the eagles snacked on rodents that had consumed poison left out by the farmers as a means of pest control. Since bald eagles are still a protected species under two federal laws, the US Fish and Wildlife Service has become involved in the investigation.
The carcasses have been flown to a federal animal laboratory in Oregon for analysis on Monday, a FWS spokeswoman said, adding the mass death is "definitely of concern." The last time multiple bald eagles were found dead in Maryland was in the 1980s, in a case involving eight birds.
Established as the national bird of the United States in 1782, the bald eagle adorns most official seals of the US government, clutching an olive branch and 13 arrows symbolizing the 13 original states of the union.
Threatened with extinction in the 20th century, the bald eagle population has since recovered, and the bird was removed from the list of endangered and threatened species in 2007. Killing the eagles remains a federal felony, however, under the 1940 Bald and Golden Eagle Protection Act and the 1918 Migratory Bird Treaty Act.
A total of $10,000 in rewards has been offered by three wildlife charities and the federal government for any information about what led to the eagles' demise.