Russia role vital to Syrian truce, but US has 'Plan B' – Kerry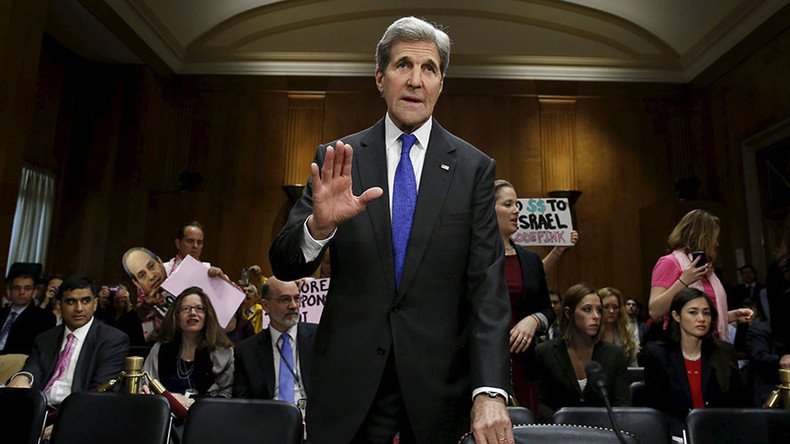 The US is discussing "Plan B" options should the Syrian ceasefire and political transition fail, Secretary of State John Kerry told a Senate committee, while praising Moscow's crucial role in brokering the agreement reached by the US and Russia.
"There is a significant discussion taking place now about a Plan B in the event that we do not succeed at the [negotiating] table," Kerry said while giving testimony before the Senate Foreign Relations Committee on Tuesday.
The Secretary was challenged by senators on the prospects of the ceasefire, which is scheduled to come into effect across Syria at midnight on Saturday (22:00 GMT Friday). Proposed by the Russian and American presidents on Monday, the cessation of hostilities includes all "parties to the Syrian conflict that have indicated their commitment."
According to the plan, those who agree to the conditions must abstain from attacking any of the other sides in conflict with weapons, including rockets, mortars, and anti-tank guided missiles.
Terrorist groups such as Islamic State (IS, formerly ISIS/ISIL) and Al-Nusra – or any other groups regarded as such by the UN Security Council – are not part of the truce.
The agreement also states that humanitarian aid should immediately be made accessible to areas in need.
"I am not going to vouch for this. I am not going to say that this process is sure to work, because I do not know. But I know that this is the best way to try to end the war and this is the only alternative available to us if indeed we are going to have a political settlement," Kerry said of the US-Russia brokered deal, stressing that it could be "too late to keep as a whole Syria if we wait much longer."
Coming to the ceasefire's defense, Kerry warned that the situation in Syria "could get a lot uglier" if the fighting continues.
"With all the cynicism and all the doubts that each of us will carry to the table, we have to test it," he told New Hampshire Senator Jeanne Shaheen.
Senators cast doubt upon Russia's commitment to the deal, with both Democrats and Republicans stressing Moscow's support for Syrian President Bashar Assad and accusing the Russian government of having violated agreements previously.
"To me the only thing Russia has been consistent about is failing to keep its word," said the committee's chairman, Senator John Barrasso (R-Wyoming).
"I just hope it's not a rope-a-dope deal," said Senator Barbara Boxer, a California Democrat.
Despite disagreeing with the US on several issues, Russia played a key role in reaching the Syrian ceasefire agreement, Kerry stressed.
"Without Russia's cooperation I'm not sure we would have been able to have achieved the agreement we have now or at least get the humanitarian assistance in," Kerry said.
"In the last days, Russia has sent its special envoy in the Syria issue to Syria to talk to the Assad regime and make sure that they are in agreement to move forward in a democratic process as well as to honor the humanitarian requirements."
The Secretary also spoke of Russia's broad cooperation in Vienna's meetings on Syria, which "could not have happened without Russia's input," as well as Moscow's teamwork in reaching Iran's nuclear deal.
READ MORE: Explained: 10 short answers to 5 key points on Iran nuclear deal
When pressed to name what possible "consequences" he would support for Russia "if it violates the ceasefire agreement," Kerry responded, "This is a moment to try to see whether or not we can make this work."
"Not to find ways to preordain its failure and start talking about all the downsides of what we might do afterward," he added.
Kerry said it would be a matter of "one or two months" before the US sees if countries in the region are serious about a political transition in Syria and whether or not the Syrian government is committed as well.
"The proof will be in the actions that come in the next days," Kerry told the committee. "We're going to know in a month or two whether or not this transition process is really serious... [Syrian President Bashar] Assad himself is going to have to make some real decisions about the formation of a transitional governance process that's real. If there isn't... there are certainly Plan B options being considered."
Although he mentioned "Plan B" twice, Kerry abstained from specifying what options Washington might be considering.
Russia is currently focusing on 'Plan A' in dealing with the situation in Syria, President Putin's press secretary Dmitry Peskov has said.
"We think that our priority is discussing and working to carry out the plan, the initiative that has been voiced by the two presidents [Vladimir Putin and Barack Obama]," Peskov said.
President Assad has called parliamentary elections for April 13, almost four years after the previous vote in 2012. His announcement came on the heels of a joint statement made by Presidents Vladimir Putin and Barack Obama after reaching the Syrian ceasefire deal.
You can share this story on social media: