Hijab equals 'passive terrorism' & other strange claims in US policy paper on countering ISIS
Published time: 24 Feb, 2016 02:03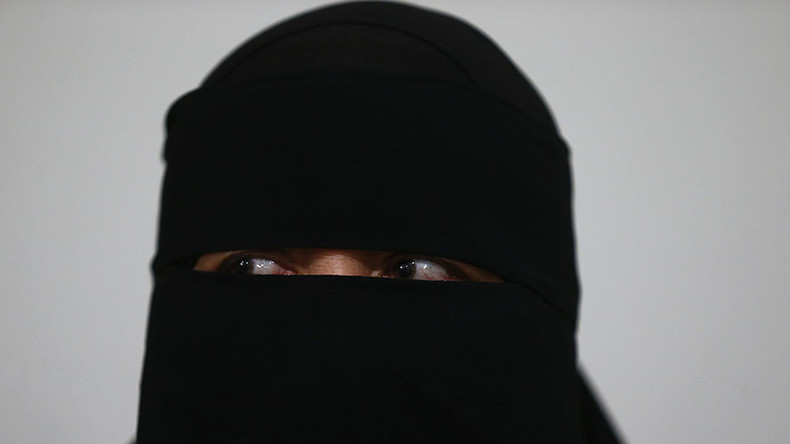 A military policy paper meant to provide solutions for countering Islamic State includes an essay that argues women wearing the hijab contribute to "passive terrorism" and young male recruits are driven to join extremist groups by "sexual deprivation."
The ideas come from an essay titled A Strategic Plan to Defeat Radical Islam by Dr. Tawfik Hamid, who argues that "unbiased, measurable data is necessary to counter the bias, emotion, and political correctness that may cloud…thinking" to fight Islamist terrorism. The contents of the study were first reported on by The Intercept.
According to Hamid, the process towards violent extremism "begins with the propagation of Salafi jihadist ideology within a community. Increasing numbers of women begin to wear the hijab… the hijab contribute[s] to the idea of passive terrorism."
Hamid drew this conclusion from observing Sunni Muslim areas such as Kurdistan in Iraq. Most women there did not wear the hijab, and those areas experienced fewer acts of terrorism than areas where the hijab was common, such as Al-Anbar Province.
"This characterization of the hijab demonizes millions of women whose reasons for covering have nothing to do with the advocacy of political violence," Arun Kundnani, a lecturer on terrorism studies at New York University told The Intercept. "[It] appears the purpose of this chapter by Hamid is not a genuine investigation of the roots of violence, but rather an attempt to supply national security agencies with bogus surveillance rubrics."
The essay appeared in a white paper from the Air Force Research Laboratory titled Countering Violent Extremism: Scientific Methods & Strategies originally published in 2011, but released again in 2015 after President Barack Obama announced a new national strategy to counter extremism. The document was made available on the Public Intelligence open source research website last month. Many of the articles are written by counter-terrorism scholars and researchers.
Hamid claims he is an Islamic reformer and senior fellow at the Potomac Institute for Policy Studies, who was once a member of an Islamic radical group called Jemaah Islamiyah.
In his paper, Hamid argues that a small number of passive terrorists develop into active ones, noting that young Muslims become attracted to terror groups to serve Islam, overcome extreme poverty, achieve respect, and feel supported by a powerful community. He also argues that young Muslims are drawn to terrorism by the desire to enter into marriages and exact revenge on perceived enemies.
Several years earlier, Hamid had argued differently during a 2006 interview titled "Hot for Martyrdom" with Canadian columnist Michael Corena, a conservative Christian.
"I've heard this poverty nonsense time and time again from Western apologists for Islam… There are millions of passive supporters of terror who may be poor and needy but most of those who do the killing are wealthy, privileged, educated and free. If it were about poverty, ask yourself why it is middle-class Muslims – and never poor Christians – who become suicide bombers in Palestine," said Hamid.
READ MORE: State Department recommends job opportunities for ISIS
In the essay included in the Air Force white paper, Hamid claims young Muslims are motivated to join radical groups because of sexual deprivation, which he links to the reward for becoming a martyr in the afterlife, where "they will be able to have sex with multiple beautiful women in Paradise."
He said he had observed that "suicide bombing is prevalent among young males when the testosterone level is highest," and that "suicide bombing is far less prevalent among young Shia Muslims."
"Addressing the facts causing deprivation in this life can interrupt the radicalization process and reduce the number of suicide attacks by jihadists," advises Hamid.
During the 2006 interview, Hamid expounded further on his sexual deprivation thesis.
"North Americans are too squeamish about discussing the obvious sexual dynamic behind suicide bombings. If they understood contemporary Islamic society, they would understand the sheer sexual tension of Sunni Muslim men," Hamid told Coren.
"Islam condemns extra-marital sex as well as masturbation, which is also taught in the Christian tradition," Hamid added. "But Islam also tells of unlimited sexual ecstasy in paradise with beautiful virgins for the martyr who gives his life for the faith. Don't for a moment underestimate this blinding passion or its influence on those who accept fundamentalism. I know. I was one who accepted it."
Amarnath Amarasingam, a fellow at George Washington University's Program of Extremism who has conducted interviews with jihadists, told the Intercept that the reasons are actually far more complex.
"There is virtually no evidence that sexual deprivation is somehow a cause of radicalization, or suicide attacks. From my interviews with jihadists in various organizations, it is clear that they are there for a complex variety of reasons. To simply attribute their motivations to sexual depravity is to miss the point entirely," said Amarasingam.
The Intercept reported that Hamid has a running column titled "Inside Islam" on the right-wing Newsmax website, where he has written several articles lavishly praising Republican presidential candidates Donald Trump and Ben Carson for their hostile statements about Muslim Americans. Hamid is also said to have made appearances on Fox News and the Glenn Beck show.