Guns for kids: Group for firearms control alarmed over NRA ads for minors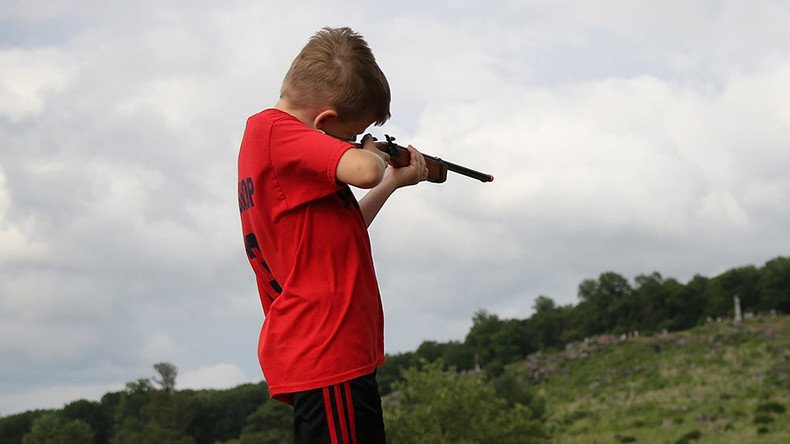 The Violence Policy Center issued a study detailing how firearms dealers and gun rights lobbyists attract children as young as six years old to hunting and target shooting, including advertising custom-color semi-automatic rifles.
Titled "Start Them Young: How the Firearms Industry and Gun Lobby Are Targeting Your Children," the 54-page report [PDF] concludes that a gun is an "adult product just like tobacco and alcohol" and recommends the prohibition of "acquisition, possession, and use of firearms by children," while taking manufacturers and sellers to task.
"The firearms industry has set its sights on America's children," the gun control advocacy organization said in a statement announcing the study. "Much like the tobacco industry's search for replacement smokers, the gun industry is seeking replacement shooters."
"Start Them Young" notes that many rifles are being produced with plastic parts, less weight, and lighter recoil which make them more usable for children, while more alarming to the Violence Policy Center are guns that come in bright colors like pink or red.
In one example, the Center points to "NRA Family," a website created by the National Rifle Association, the top lobbyist group for combating further gun control. The website hosts articles ranging from a reimagining of the Little Red Riding Hood fairy tale with a locked and loaded Grandmother to a review for the Thompson/Center Hotshot youth rifle, referring to it as "a tiny gun intended for the very youngest shooters -- the ultimate first gun" for children 6-12 years of age.
Aside from pursuing future customers, the firearms industry has "a corollary goal" to create "the next generation of pro-gun advocates for future political battles," the study suggests.
"Imagine the public outcry if the alcohol or tobacco industries introduced child-friendly versions of their adult products. Or imagine if they devised a plan to deploy 'youth ambassadors' to convince their playmates to join them in these adult activities. Yet the firearms industry and gun lobby are doing all of these things and more in their aggressive efforts to market guns to children," Violence Policy Center Executive Director and study author Josh Sugarmann said in a statement.
The study also refers to a study by Everytown for Gun Safety, also a gun control advocate, which found one in three children live in a home with at least one gun and that on average, guns kill seven children and teenagers in the US everyday.
You can share this story on social media: