DoD, State Dept. struggle to explain Libya strike legality with 15yo authorization & some intl law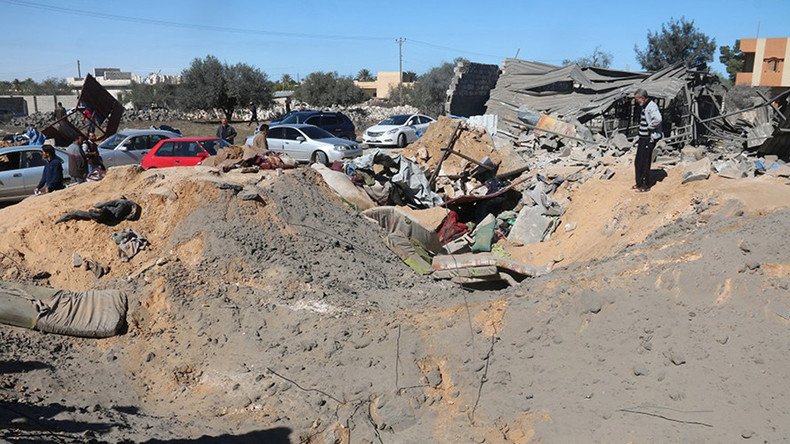 Having confirmed a strike on an ISIS camp in Libya, Washington officials had difficulties explaining under which legal authority the US acts. While the Pentagon cites post-9/11 legislation, stripped of such powers, the State Department refers to unnamed international laws.
On Friday, the US announced that its warplanes targeted a training camp near the Libyan city of Sabratha, reportedly killing up to 40 people. The Pentagon has treated the attack as a success as it declared the elimination of a Tunisian national, Noureddine Chouchane, who was an Islamic State (IS, formerly ISIL/ISIS) facilitator in Libya.
Also known as "Sabir," the militant is believed to be behind the deadly attack on the Bardo Museum in Tunis in March 2015.
However, regardless of its achievement, the US authority to carry out strikes on Libyan soil has again come into question. It has appeared that Washington does not have a single answer.
After briefing reporters on Friday, the Pentagon press secretary Peter Cook was asked to clarify under what authority the US came to Libya, given that no Americans had been killed in the 2015 Tunisia attack.
"We have struck in Libya previously under the existing Authorization for the use of [military] force," Cook replied.
The Pentagon's spokesperson allegedly referred to the AUMF, which was passed and then signed by President George W. Bush shortly after 9/11, in September 2001, to target al-Qaeda. It authorized United States Armed Forces to carry out attacks against those responsible for September 11.
However, the Defense Department "believes" that the AUMF can be used 15 years later to fight ISIS.
"We believe that this was carried out under international law and, specifically, that this operation was consistent with domestic and international law," Cook said, while not explicitly referring to any particular legislation.
In February 2015, President Obama did propose his own AUMF, which "does not address the 2001 AUMF", but the draft was rejected by the Congress in December.
Other AUMF drafts, including for example, one of the most recently submitted by Senate Majority Leader Mitch McConnell, have not gotten Congressional approval either.
RT has also tried to clarify the US's authority for the attack with the State Department, but failed to get a conclusive answer.
RT's Gayane Chichikyan: "Under what legal authority did the US carry out strikes in Libya this morning?"
State Department's Mark Toner: "It was in full accordance with international law. We've talked about this many times. I'd refer you to the Department of Defense to speak about specifics."
Chichikyan: "So not the AUMF? It's – it was international law?"
Toner: "Exactly. I mean – exactly." He then refused to "get into details here," again readdressing the question back to the Pentagon.
Approved by 'some Libyan authority'?
At the same time both departments unanimously stress that "the Libyan authorities were aware" about the US's strike. However, when asked to specify what "Libyan authorities" he referred to, Toner seemed to be at a loss, saying that "there is some governmental structure present" there.
"The new – well, I mean, there's obviously Libyan authorities on the ground," he replied to a question about Libya's recently announced unity government. "It's not – we're still working to stand up the Government of National Accord. We want to see it returned and establish itself in Tripoli."
Meanwhile, as experts tell RT, until its approval, the UN-backed unity government does not have powers to authorize foreign intervention.
"There is really no Libyan authority in existence that's able to invite them [the US], so I think they did it on their own authority," Oliver Miles, former UK ambassador to Libya, said. Miles believes the Libyans would oppose "very strongly" any foreign intervention.
Five years after the US-led force toppled Colonel Muammar Gaddafi, Libya remains in a power vacuum, which dragged the country into a civil war and let terror groups gain a foothold in the region.
There is a glimpse of hope for improvement and stability as the unity government, consisting of 13 ministers and five ministers of state, was formed Sunday and is currently expecting Libya's eastern parliament's approval.
The State Department "disagrees" that the US's devastating intervention in Libya in 2011 has been a reason for its current involvement in Libya.
"We're very clear-eyed in our assessment that when we see ISIL take these kinds of actions, we need to be able to strike at them," Toner said, stressing that it is not "second intervention."
In the meantime, the Pentagon has announced that "will go after ISIL whenever it is necessary, using the full range of tools at our disposal."
You can share this story on social media: