Back to space race: Virgin unveils SpaceShipTwo
Published time: 20 Feb, 2016 00:00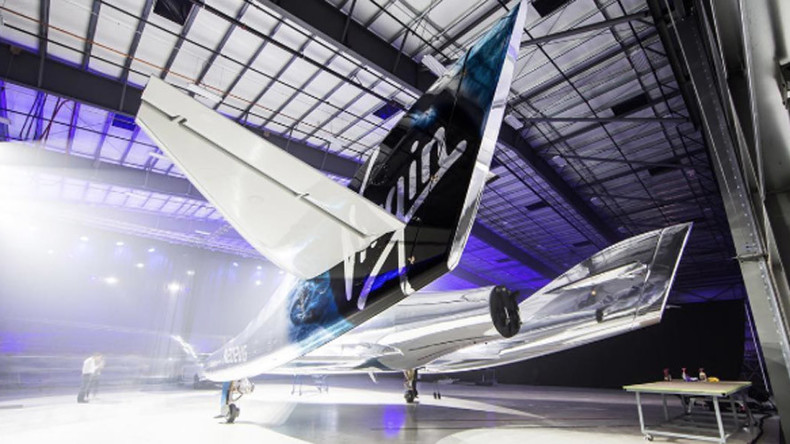 Richard Branson has released images of Virgin Galactic's SpaceShipTwo. The new craft is similar in design to the first version that crashed two years ago, but has a few key differences that could bring intergalactic tourism to the masses.
According to a press release from Virgin Galactic, the VSS Unity has already gone through rigorous testing. However, the lessons of the original SpaceShipTwo have not been forgotten by Virgin Galactic, who said "we benefit from incredibly useful data from 55 successful test flights as well as the brutal but important lessons from one tragic flight test accident."
Although tests have been done on the VSS Unity prior to its unveiling, it is still a long way from being airborne. Virgin Galactic explains that, "If you are expecting SpaceShipTwo to blast off and head straight to space on the day we unveil her, let us disillusion you now: this will be a ground-based celebration." The reveal of the VSS Unity marks the beginning of ground tests; all prior tests had measured each individual part but this marks the beginning of full-vehicle tests of the electrical system and moving parts.
The testing of materials first began shortly after the company's launch in 2004. In 2010, Branson said that SpaceShipTwo was "18 months away from taking people into space." Before the SpaceShipTwo was even unveiled, the labs designed large prototypes. Engineers used these to make sure the "material properties have given our analysts and designers the right information to build the vehicle the right way."
Once ground testing has been completed, SpaceShipTwo will move on to paired flight, where the VSS Unity will be attached to a larger ship. Following that are series of glide tests that will keep the SpaceShipTwo flying through low-altitude drifts. Should the ship pass all of these tests, it will being rocket testing that will take it on lower sub-orbital flights and – should it all go according to plan – will result in "official astronaut distance" while is over 50 miles above Earth's surface.
This long process is one that Richard Branson hopes will end with paying customers flying to space. It has yet to be determined how long the process will take, but Virgin Galactic assures the public that "there is no easy way from the Earth to the stars. But finally, there is a way, and through steady testing, we will find it."
For those interested in flying abroad the SpaceShipTwo, seats cost $250,000. According to the press release, more tickets have been purchased than astronauts have been in space.