Taking out the trash: International Space Station unloads 1.5 tons of garbage into orbit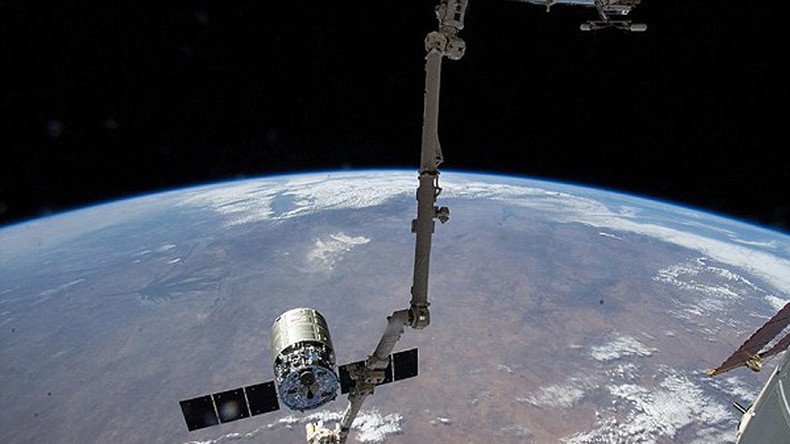 In what may look like the biggest instance of littering ever, NASA astronauts dumped a ton-and-a-half capsule of trash out of the International Space Station. The capsule is expected to leave no trace of its existence by burning up in the Earth's atmosphere.
The Cygnus cargo vessel was first launched from Florida's Cape Canaveral Air Force Station in December to take supplies such as food, clothing and scientific equipment to the station.
On Friday, two months since arriving at the station, the unmanned craft was filled with garbage and launched back into space while the station was in orbit over Bolivia.
The vessel, built by NASA contractor by Orbital ATK, was pushed out into the cold void of space by a 58-foot robotic arm, after astronauts Scott Kelly and Tim Kopra sent the command. Once it was at a safe distance from the ISS, Cygnus's engines fired, sending it into the Earth's atmosphere to burn into ash.
Kelly radioed to the ground, thanking them for the supplies. He has almost reached the end of his record-breaking yearlong mission, and is scheduled return to Earth next month.
"It's been a pleasure," he said to Mission Control, according to The Chicago Tribune.
"A beautiful release." they replied.
Orbital ATK plans to launch another Cygnus craft from Cape Canaveral on March 22.
SpaceX, a commercial space company founded by Elon Musk, is expected to make another supply delivery to the station in the next few months.
The proper disposal of trash has become more of a concern in recent years, since simply jettisoning items out of ships has created a large amount of space junk that is still believed to be dangerous to spacecraft and orbiting satellites.
You can share this story on social media: