Helicopter crashes into water near Pearl Harbor (VIDEO)
Published time: 19 Feb, 2016 00:01
Edited time: 19 Feb, 2016 15:26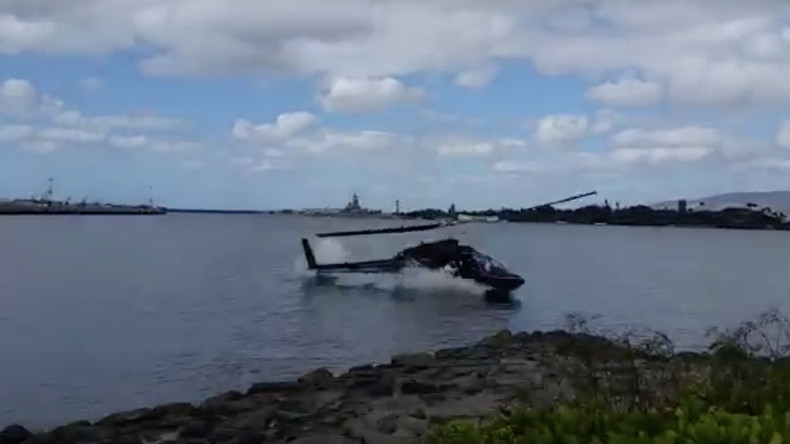 A civilian helicopter was caught crashing into the water near Pearl Harbor, Hawaii, leaving one person in a critical condition, according to authorities. The Coast Guard said five people had been on board the vehicle when it slammed into the water.
In the shocking video capturing the crash on Thursday morning, the helicopter is shown heading towards land when it suddenly seems to tip back and then lean right. With what sounds like the engine revving to a higher speed, the helicopter crashes into the water sideways.
The Navy said that five passengers were safely rescued after the civilian helicopter went down near the National Park Service Pearl Harbor Visitor Center, according to KHON2
Witnesses told the news outlet that the helicopter came to rest in the water upside down, and some of them dove into the water to free the injured victims.
Hawaii Coast Guard Petty Officer Melissa McKenzie told the Associated Press that the aircraft had been a civilian helicopter, "possibly a news chopper."
A Honolulu Emergency Services Department spokeswoman confirmed to KHON that they had a total of three patients. A 16-year-old boy was treated by EMS and is in critical condition in an area hospital. A 50-year-old man and a 45-year-old woman were treated and transported to the hospital in stable condition.
The other two patients were treated by the Federal Fire Department medical crews.
The FFD and security personnel have secured the area to conduct their investigation, while tours to the Pearl Harbor Memorial have been canceled due to the crash.
The Federal Aviation Administration said the helicopter involved in the crash is a Bell 206, according to KHON2. FAA investigators are on their way and the National Transportation Safety Board has been notified. The helicopter reportedly belongs to Genesis Aviation.