'Obama bought drugs as male prostitute' and other outlandish comments from politicians
Published time: 18 Feb, 2016 03:44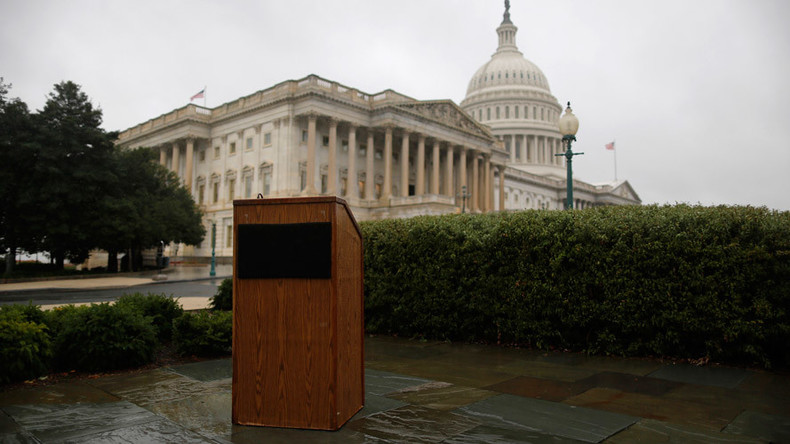 A board of education candidate in Texas has made news by saying President Barack Obama is a former homosexual prostitute, but the comment is just one example of many where politicians have used the freedom of speech to make outlandish claims.
Elections for State Boards of Education rarely make the news. But, Mary Lou Bruner, a candidate for the 15-member board that represents a large part of northeast Texas, changed that with a single Facebook post. The statement was just picked up by the media, but in October 2015 the retired teacher took to social media to explain Obama's support for same sex marriages, claiming:
"Obama has a soft spot for homosexuals because of the years he spent as a male prostitute in his twenties. That is how he paid for his drugs. He has admitted he was addicted to drugs when he was young, and he is sympathetic with homosexuals' but he hasn't come out of the closet about his own homosexual/bisexual background. He hasn't quite evolved that much! Since he supports gay marriage, he should be proud of his background as a homosexual/bisexual. He is against everything else Christians stand for, he might as well be for infidelity."
She never cited any sources for her allegation, but has defended the since-deleted post by saying, "I'm not ashamed of anything that I have ever said," the San Antonio Current reports. She added, "If I'm on the State Board of Education, I'm going to speak up for the things that I believe because I have a First Amendment right."
She is not the only politician who has made use of her First Amendment right. Below is a sampling of elected officials who have suffered from foot-in-mouth disease.
Guns don't kill people, credit cards kill people
"A holstered gun is not a deadly weapon... But anything can be used as a deadly weapon. A credit card can be used to cut somebody's throat." – New Hampshire state Rep. Dan Dumaine (R), quoted by the Concord Monitor when opposing a move to ban guns from the chamber floor.
In 2011, Republicans had a majority in the New Hampshire legislature. As a result, they legalized carrying guns on the House floor. So when the Democrats took over the state House of Representatives in 2012, they attempted to ban guns from the House floor and the gallery. Dan Dumaine defended his right to bear arms in the government building by claiming that a firearm was no deadlier than a piece of plastic.
Pregnancy and rape prevention, as explained by a man
"If it's a legitimate rape, the female body has ways to try to shut that whole thing down." – Missouri Senate candidate Todd Akin
Todd Akin had served as the Representative for Missouri's 2nd District for over 10 years. So when the 2013 elections approached, it was safe to assume that he would be the favorite to win. That was, however, before he opened his mouth to explain his no-exceptions policy on abortion, even in the case of rape. He lost the election and left office in 2013.
The history of the US, but without the bad stuff
"We've never, in the history of this country, passed any laws or done anything based on race or religion." – South Carolina Governor Nikki Haley
Nikki Haley may have had good intentions when she urged Republicans to ignore Donald Trump's call to ban Muslims from entering the country. However, the governor may have forgotten that she had to remove the Confederate flag from the state's capitol just months prior. The flag, of course, was the focus of heated debate over racism and the role of slavery in the Civil War.
As contentious as her claim may have been, she had nothing on some of the other South Carolina politicians.
Never forget?
"We had no domestic attacks under Bush – we've had one under Obama." – Former New York City Mayor Rudy Giuliani.
When former Mayor Rudy Giuliani went on Good Morning America in 2010, he probably meant to criticize President Obama's counterterrorism efforts and not to do the one thing you're never supposed to do: Forget 9/11.
Tickle parties and politics
"Now they are saying I groped a male staffer. Yeah, I did. Not only did I grope him. I tickled him until he couldn't breathe, and then four guys jumped on top of me. It was my 50th birthday." – Former New York Congressman Eric J Massa
Massa was already in trouble when he said the above statement. He had recently resigned from his position as allegations of sexual misconduct from staffers arose and prompted even more, dating back to his days as a naval officer. However, when questioned about the allegations by Glenn Beck on Fox News, he probably should have thought more before talking