700,000+ CIA docs close to release as 'national security geek' nears Kickstarter goal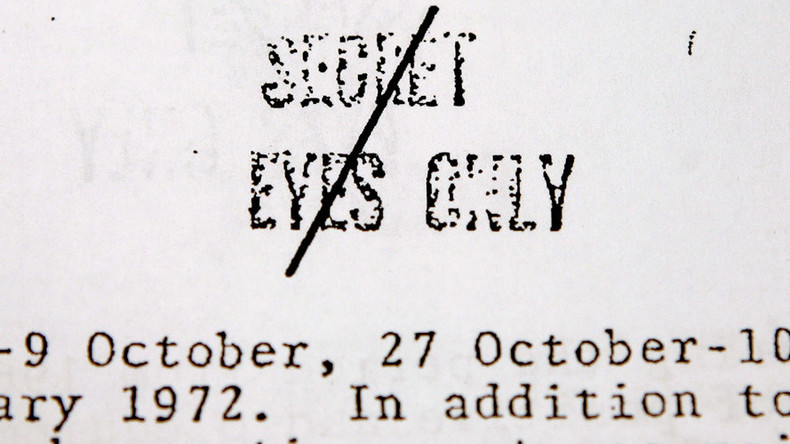 Some 700,000 declassified Central Intelligence Agency files, held on public yet largely inaccessible CIA computers, are just waiting for someone to come along and print them. One Kickstarter project is on the verge of doing exactly that.
Michael Best, who has used the online moniker "National Security Geek," launched the project to raise $10,000, and he's already near his goal thanks to hundreds of backers. They all want to have a hand in disseminating the unreleased CIA files, numbering about 10 million pages, to the general public. Even though the documents have been declassified, they remain locked up in four computers at the National Archives and Records Administration in College Park, Maryland.
Known as CREST, the CIA Records Search Tool allows anyone to search the documents, but only if they wish to make the trip there. Even then the only way to share any findings is to print, scan, and upload, which so far has only happened with about 1 million out of the total 11 million pages in the archive. Eventually, the newly unearthed volumes would be sent to The New York Times and Wikileaks, while the physical printouts will be donated to a library, archive, or university, according to the Kickstarter page.
Best hopes to raise enough to cover a MacBook Air laptop, a Fujitsu high-speed scanner which runs over $5,000, and office supplies as well as other expenses. One such expense is sending $35 T-shirts to donors which read, "I helped publish 700,000 CIA files and all I got was this lousy shirt."
The plan is working so far. As of February 16 at 8:00 pm EST, 316 funders had given $9,403.
One major development that has yet to be reflected on Best's fundraiser page, though, is the news announced by the CIA on Tuesday that it is declassifying 750,000 more documents and placing them in the CREST system. Best took notice on Twitter after Vice News journalist Jason Leopold shared the press release, but it's unclear how, if at all, this news will affect Best's current project.
Once the targeted files are printed, Best will upload them to his former employer The Internet Archive, a non-profit digital library based in San Francisco. Using that resource means Best won't have to raise money for file storage, and since he is working from home, there is no additional rent expense either.
Among the goodies Best expects to publish are documents relating to The Star Gate Project, which from 1970 to 1995 "used remote viewers who claimed to use clairvoyance, precognition, or telepathy to acquire and describe information about targets that were blocked from ordinary perception," according to the fundraising page. Best has published collections on the John F. Kennedy assassination and UFOs in the past.
Processing millions of pages can obviously take some time. To keep things going as quickly as possible, Best suggested on the Kickstarter page that additional funds be raised to pay himself the median salary of the average archivist, which is $44,066 per year or $18 per hour, according to Payscale.com.
If the project is overly successful, leftover funds would go towards fulfilling more of Best's Freedom of Information Act (FOIA) requests, which he chronicles on MuckRock, a website dedicated to assisting others in their FOIA efforts.
One factor, however, that stands to raise the cost of Best's Kickstarter project is the possibility that the CIA may stop buying the paper and ink toner as it currently does.
"If [the CIA] does [stop paying for paper and toner], then the new rules will have to be explored for possible ways to continue," the Kickstarter page reads.
Another potential issue outside the control of Best could impact the speed at which the work is completed.
"The rate of printing is dependent on the flow of fresh paper and toner," Best writes elsewhere on the page. "If the archives run out of either, then printing and digitising will have to pause while CIA refreshes their supplies."
Best has tested the CIA printers, estimating them to produce about 30 pages a minute when actively running.
After a 1995 executive order by then-President Bill Clinton, CIA records 25 years or older were ordered to be automatically declassified beginning in 2003. Under President George W. Bush, that deadline was postponed to 2006, and under President Barack Obama in 2009, the executive order currently known as EO 13526 was amended once more, creating the National Declassification Center with the intention of speeding up declassification systems.