10,000+ sharks caught drifting off Florida coast in incredible aerial footage (VIDEO)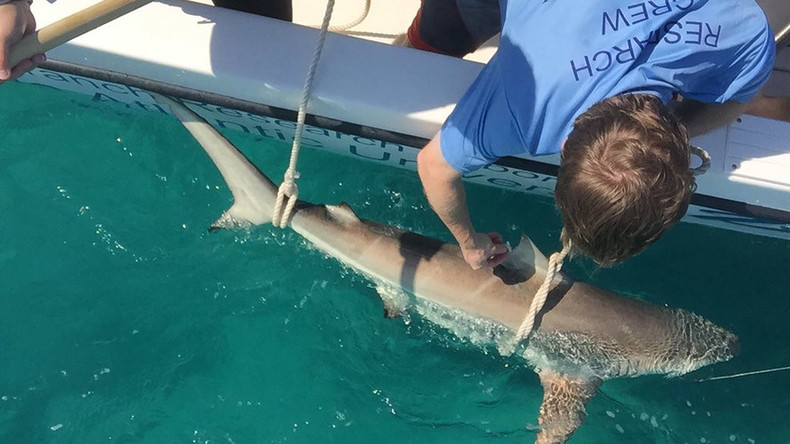 There are thousands of migrating sharks swarming just off Florida's coastline, which in 2015 became the "shark attack capitol" of the US. This new aerial footage has revealed the sheer scale of the predator population.
The blacktip sharks are teaming up just several hundred feet away from the shore near Palm Beach and up some 20 miles to Jupiter Beach.
In a video from Friday, Florida Atlantic University biological sciences professor Stephen Kajiura showed off the scene as part of the aerial blacktip shark migration surveys he and his team are conducting.
"There are literally tens of thousands of sharks a stone's throw away from our shoreline. You could throw a pebble and literally strike a shark. They are that close," Kajiura told CBS12.
While migration is normal for blacktip sharks this time of the year, seeing such an enormous population and at this particular location is not usual. Typically, the sharks go further south, but this year they have stayed near Palm Beach, north to the Jupiter Inlet.
He is now working to find out why sharks decided to stay in the area rather than traveling further south along the Florida coast.
"One of the ideas may be that as they are getting south, if they are in a suitable habitat, then why not stay," Kajiura told ABC.
Part of his survey is tagging sharks. He wants to tag 60 sharks to see where they would be going next and study their migration patterns.
Thousands of sharks have not scared away beach-goers, though, and the coastline remains open.
"These sharks are pretty skittish," Kajiura said, explaining that it is due to clear water in the Palm Beach area that they can differentiate between humans and prey like fish. "So when they see a human, they swim away."
He says that "if you look historically", very few people have been bitten by blacktips in this area and most of the cases are usually registered further north in Daytona.
Yet just recently, Florida has been rated the leading state for shark attacks by the International Shark Attack File. Of 98 attacks recorded worldwide in 2015, 30 were confirmed in Florida, though none of them were fatal.