Comcast hit with nationwide outage
Published time: 15 Feb, 2016 19:14
Edited time: 15 Feb, 2016 19:21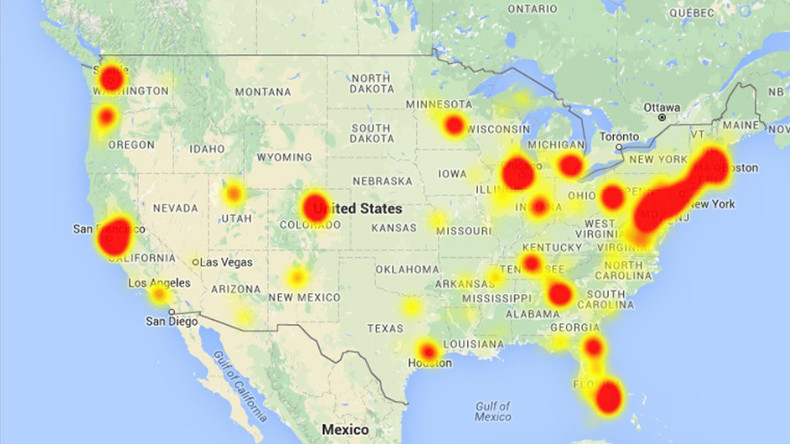 Comcast customers are currently encountering a disconnection when it comes to cable and internet services. The outage has hit cities across the country. It is mostly affecting TV viewers in the Northeast Corridor.
The disruption currently stretches from southern Virginia along Interstate 95 up past Boston and into Maine, an area currently dealing with a winter storm. It also affects major cities around the country, including Atlanta, Chicago, Denver, Detroit, Portland, San Francisco and much of South Florida.
The first report of the outage came in around 10:20 a.m. ET, and, within an hour, reached a peak of 446 outage reports, affecting thousands of customers nationwide, according to KTVU.
In the RT America newsroom in Washington, DC ‒ which is served by Comcast ‒ images were frozen on multiple TV channels, but have since been restored.
"We're continuing to investigate what appears to be a temporary network interruption that impacted some of our services [Monday] morning," Michelle Gilbert, Comcast vice president of public relations, said in a statement. "Our engineers have been working on this and services are starting to be restored. We apologize for any inconvenience this has caused our customers."
The outage is also affecting the company's website and customer service line, the Detroit News reported.
Comcast customer service, often derided for unresponsiveness, has been tweeting up a storm as its subscribers take to social media to complain about a lack of TV service on the federal holiday.
By 1:20 p.m. ET, much of the "temporary network interruption" had been restored, the company said on its website.