Inside the war rooms: What happens now with the US Supreme Court?
Published time: 14 Feb, 2016 22:04
Edited time: 15 Feb, 2016 13:07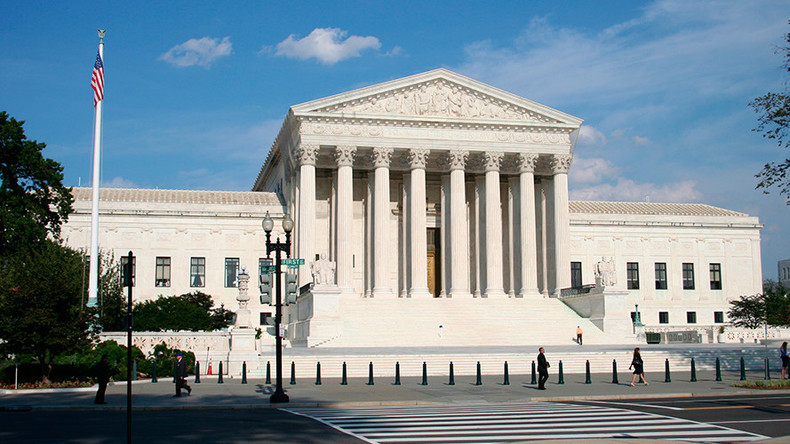 While the family of US Supreme Court Justice Antonin Scalia is making preparations for his funeral, the nation's capital where he presided over complex legal cases for 30 years is gearing up for a battle that could last into next year.
Advocacy groups representing all points along the political spectrum hope to drive the debate over who will replace the conservative jurist on the bench of the US Supreme Court, which is colloquially known as SCOTUS.
READ MORE: GOP threatens to block Obama's SCOTUS nominee after Scalia death

For now, Scalia's passing has neutered the court's 5-4 conservative majority, leaving it tied 4-4 on a number of key issues like abortion, gun control, immigration, and civil rights.
Inside the War Rooms
The process for approving a president's selection for the position of Supreme Court Justice was once conducted by examining the nominees' past rulings, but since the failed nomination of Robert Bork in 1987, the proceedings have come to resemble a political campaign, with advocacy groups running war rooms that raise millions of dollars, lobby Congress and the White House, and communicate across every platform.
The war room operators are ready to go at a moment's notice in case one (or more) of the nine lifetime appointees either resigns unexpectedly, gets impeached, or dies while on the bench.
The White House will also employ its resources to vigorously campaign for its nominee, once he or she has been picked, vetted, and announced.
The last time SCOTUS was this "up in the air" was in 2005, when two vacancies on the court became available after Sandra Day O'Connor retired and Chief Justice William Rehnquist passed away.
The Bush White House had already set up a war room to replace O'Connor with John Roberts at the time. Meanwhile, interest groups created media campaigns targeting the states of Senate Judiciary Committee members.
More than $20 million is thought to have been raised by conservative groups, with overall spending doubling that year.
Roberts eventually became SCOTUS' chief justice, and following a botched attempt to nominate White House counsel Harriet Miers, President Bush chose Samuel Alito.
The war room for that process even conducted mock confirmation hearings.
The Obama administration "moved aggressively" in 2009 to promote Sonia Sotomayor as its Supreme Court nominee. She was reportedly at the White House "plotting strategy" a day after the announcement.
While she made it through the confirmation process to become the first Latina justice in history, it wasn't before former Republican Speaker of the House Newt Gingrich and conservative talk show host Rush Limbaugh branded her a racist as part of a coordinated attack from the right.
Elena Kagan's nomination in 2010 saw a similar campaign and result, but to this day, both of Obama's appointees are still attacked by conservatives such as Iowa Congressman Steve King.
Inside the Confirmation Process
The Supreme Court consists of a Chief Justice and eight associate judges. Once there is an opening, the president nominates a candidate for the role, traditionally someone who holds similar legal perspectives.
This year's election changes the rules a bit.
Republican Senate leader Mitch McConnell has already threatened to block any Obama nomination, and GOP presidential candidates endorsed that strategy during Saturday night's primary election debate, just hours after Scalia's death.
Conservatives are calling for the decision to be delayed until 2017, saying it is not standard to confirm Supreme Court nominees during an election year.
However, a member of the center-left think tank Center for American Progress, which is also gearing up for the nomination battle, hit back with a tweet correcting that assertion.
Obama said nominating a successor is part of his constitutional responsibility: "These are responsibilities that I take seriously, as should everyone, they are bigger than any one party; they are about our democracy."
Once the nomination has been made, the candidate must submit to an invasive background check of their personal life, finances, and previous positions on controversial issues.
During the confirmation process, the nominee will have to take part in a series of high-profile, high-pressure judiciary committee hearings.
The committee consists of 20 members, nine Democrats and eleven Republicans, including presidential candidate Ted Cruz.
After the grueling debate, the Senate will advise and either confirm or reject the president's proposed appointee.
The last time the Senate rejected a nominee was in 1987 when Robert Bork was sent packing, while Harriet Mier's nomination was withdrawn.
On average, nominees are confirmed or rejected by the Senate within 25 days. The longest process took 125 days.
With conservatives opposed to recent Supreme Court decisions on marriage equality and healthcare reform, they may use their Senate majority to engineer a filibuster with the intention of postponing a decision until Obama's presidency ends.
Once a nominee has been confirmed by the Senate, the president signs a commission officially affirming the nominee's new position, after which they begin work on the bench.
The new Supreme Court justice will likely hold the position until they resign or die.
A similar scenario played out on the hit NBC TV show "The West Wing" with Jed Bartlet's backroom staff left with little time to figure out who should be their SCOTUS appointment.