Fungi funeral: Mushroom 'death suit' offers eco-friendly alternative to caskets & cremation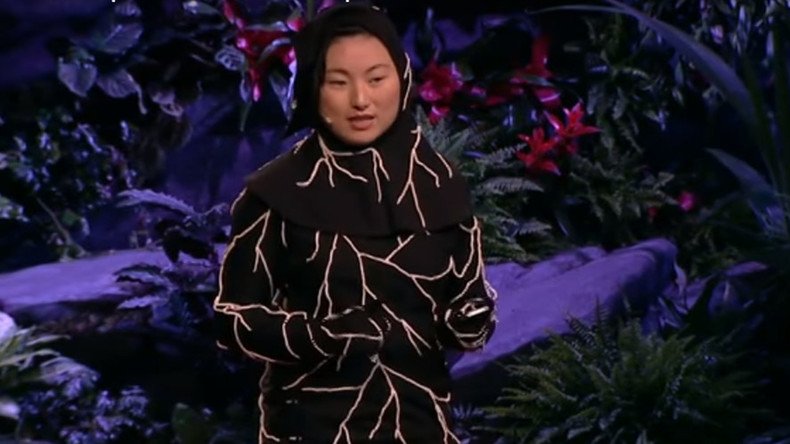 If you are looking for a radical new way to dispose of your body after death, look no further than mushrooms, says TED Fellow artist Jae Rhim Lee. Coming on the market this year, her "death suit" will allow bodies to decompose in an environmentally-friendly manner.
The "death suit," which is actually a pyjamas-like suit containing colonies of specially selected fungi, offers an alternative option to burial or cremation and is also available for pets.
Inventor Jae Rhim Lee first announced plans for a range of "Infinity Burial" products during a TED talk five years ago. Her New York-based company Coeio now says the burial suit will be ready for sale in 2016.
The weird outfit is interweaved with spores of what the company has coined "infinity mushrooms."
"This will be a unique strain of fungi that will be trained to decompose bodies and remediate the industrial toxins in bodies," the website says.
Shiitake and oyster mushrooms have been used in testing by Lee, who fed the fungi samples of her hair, nails and skin, according to IFL Science.
The concept is that the mushrooms break down toxins contained in the human body, which are released into the atmosphere or into the soil.
Co-founder of Coeio, Mike Ma told Take Part: "This technology speeds the return to earth through decomposition, it remediates toxins we accumulate over a lifetime, and it speeds nutrient delivery back to plants."
Coeio want to change the way we think about death and move away from funeral practices that harm the environment - such as harsh embalming chemicals, coffin materials and carbon dioxide emissions from cremation.
The "death suit" is due to go on sale this summer for $999, while the pet option, which is similar to a sack, expected to be available next month.
The funeral industry has become more "environmental friendly" with a range of options available beyond biodegradable caskets.
Alternative green options include:
A natural burial - involving only a burlap sack buried in the woods
Urban Death Project - a three-story core, within which bodies and high-carbon materials are placed. After a few months, as a result of aerobic decomposition and microbial activity, the bodies decompose fully, leaving a rich compost.
Green Cremation - an eco-friendly alternative to flame-based cremation by using a pressurized metal chamber and bath of chemicals to reduce the body to its basic element of bone ash.
You can share this story on social media: