'Happy ending?' Ohio cop put on leave for gloating over suicide of Black Lives Matter activist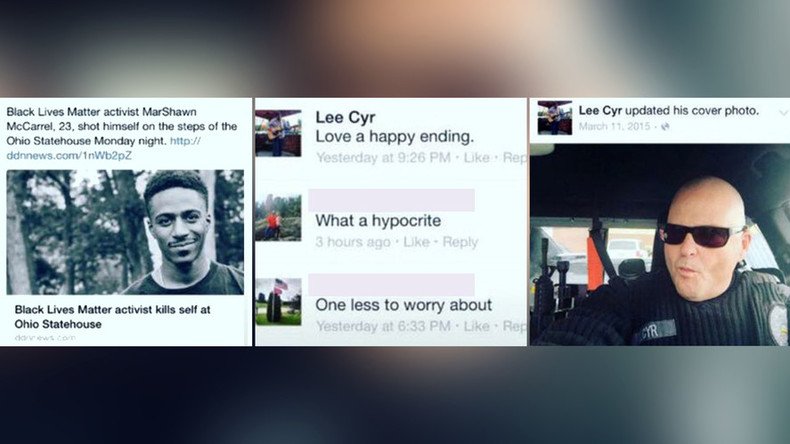 An Ohio police officer was placed on paid administrative leave after allegedly calling the suicide of a Black Lives Matter activist a "happy ending" in a Facebook comment. The post has since been deleted.
The Fairborn Police Department has a strict social media policy that prohibits officers from writing anything on social media while on duty. Officer Lee Cyr was off duty at the time of the alleged post in question, but Fairborn Police Chief Terry Barlow told the Dayton Daily News that posts with the potential to "discredit the police are also against department policy."
"We take this seriously," Barlow said. "We will ensure the professional standards of the department are upheld."
Cyr's comment, since deleted, appeared on an Ohio Politics Facebook page that featured a post about the suicide of activist MarShawn McCarrel, who fatally shot himself on the steps of the Ohio statehouse on Monday.
The post on the Ohio Politics Facebook page received 53 comments and 54 shares. While the majority of the comments were compassionate, Cyr is alleged to have posted a comment under a link to a news story about the activist's suicide that read, "Love a happy ending."
Officer Cyr has been placed on paid administrative leave while his department determines whether he was behind the post, and whether or not it violated the department's social media policy.
Cyr's comment wasn't the only one applauding the suicide. Others wrote things such as, "Did the cops a favor – I would furnish ammo if others are interested," while another wrote "Thank you," and a yet another added, "Taxpayer money saved. One less to worry about."
Activist McCarrel was the founder of Pursuing Our Dreams, a mentorship program, as well as the creator of a homeless outreach program called Feed the Streets. McCarrel's family believed his mental health may have been compromised by the emotionally draining work he had undertaken, the New York Daily News reported.
"My demons won today. I'm sorry," the 23-year-old activist posted on his own Facebook page before committing suicide.
Notably, this is not the first time Officer Cyr has run afoul of the department's social media policy. WHIO TV reported that a supervisor, Sergeant Rod Myers, had sent Cyr a warning letter last May.
"We have discussed the use of social media, and I have encouraged you to better familiarize yourself with…the order regarding social media, and model your social media behavior to be consistent with that order," he wrote.
The comment that got Cyr into trouble that time was a response to a thread asking readers to share their places to visit and favorite things to do in Fairburn. Cyr's comment was "Leave."
You can share this story on social media: