'Not here for the boys': 'Blurred Lines' model receives torrent of online abuse for Sanders support
Published time: 12 Feb, 2016 20:58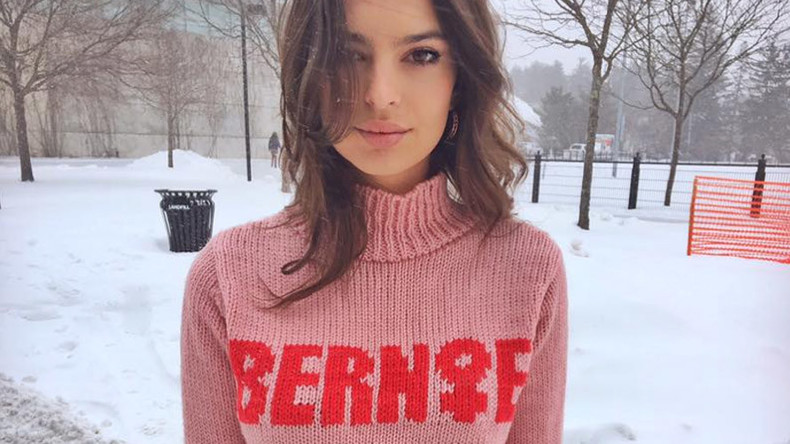 Model and actress Emily Ratajkowski continues to #FeelTheBern despite having been subject to a tirade of online abuse since she publicly announced her support for democratic socialist Bernie Sanders.
The 24 year old made a speech at a rally at the University of New Hampshire earlier this week to declare her support for Sanders: "So I am a young woman and um, well, just to make one thing clear: I'm here because I support Bernie Sanders... I'm not here for the boys."
Her comment alluded to remarks made by feminist Gloria Steinem, who suggested during a recent TV appearance that young women were voting for Sanders because "the boys are with Bernie."
Steinem later apologized for the comments after receiving intense online backlash.
Ratajkowski shot to fame in 2013 when she appeared topless in the video for Robin Thicke's colossal hit Blurred Lines.
During her NH speech, Ratajkowski told her young audience that she wanted to see a female president in the future, but did not believe in tokenism:
"I want a female president so that I can say to my daughter one day, you too can become president of the United States. I believe in that symbolic importance. But I have seen symbolism in election, symbolism that fails the people that so desperately need the action to make change. I want my first female president to be more than a symbol, I want her to have politics that can revolutionize."
However, not everyone was happy with the model having a political stance – or any views at all, apparently. Many on social media dismissed her views due to her good looks and advised her to "stay out of politics.
Philip Calococci wrote on Facebook, "Just another mindless beauty. This generation has no idea where the money will come from. Idiot."
"I guess you got so much physical beauty, that the brains had to be left out. And there are so many lies contained in the statement that I can only hope you didn't write it yourself (because that would mean they you got shortchanged on honesty too)," Andrew Pope commented.
"Being beautiful doesn't guarantee that you're smart…" Chris Zarowny added.
Others accused her of being paid to support Sanders.
Joseph Vos stated, "She was paid to read a script !!! If you watched it, and you know her??? She don't believe anything she said !!!"
"With an estimated net worth of over 3 million dollars and unless you are a US citizen you probable [sic] don't pay federal income tax in the US. So you're part of the problem and Sanders wants to fix. Strange you would give a speech for him, but you got paid I'm sure," John Geer wrote.
Sean Gill had a simple message for the model: "Stay out of politics."
Ratajkowski, who has more than 4 million likes on Facebook, doesn't appear to be letting the haters get to her. Despite the online vitriol, she has continued to voice her support for Sanders and called on the senator to clarify his policies: