2 teenage girls shot dead at Glendale, Arizona high school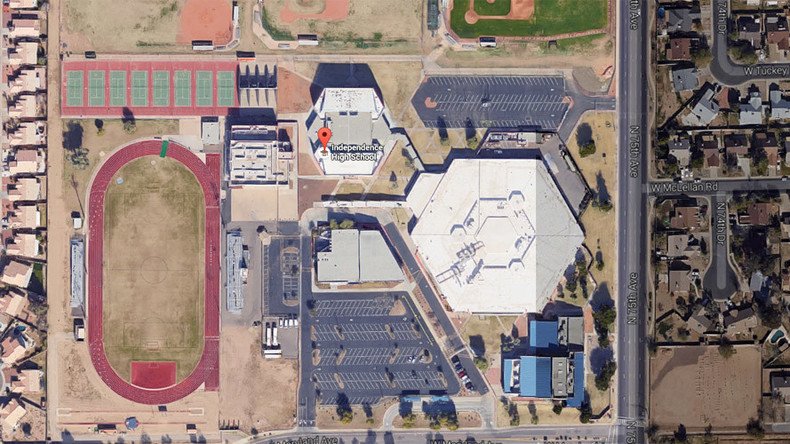 Two 15-year-old girls have been killed in an apparent murder-suicide at the Independence High School in Glendale, Arizona. Both were students at the school.
Glendale police found the two girls on a covered patio near the administration area, spokeswoman Tracey Breeden told reporters. Both were declared deceased at the scene. A single gunshot wound was found on each body, along with a gun nearby. The police declined to confirm if this may have been a murder-suicide, and said the investigation was still ongoing.
The school was placed on lockdown, and students were ordered to stay in their classrooms. Local media reported the situation at the school was "relatively calm."
Initial reports described the victims as "two teenagers," but offered no details. One KNXV-TV source said that two female students may have got into an "altercation" at the cafeteria, which ended with gunshots. The police could not confirm if there was a relationship between the girls, however.
The school was placed on lockdown and students were not allowed to use their phones, one parent told KNXV.
Police were criticized for not getting the information out to the parents, and there were questions over the policy prohibiting calls or texting, keeping the families in the dark.
Scores of parents gathered at a Walmart near the school, designated by the police as a staging area, and expressing frustration that they have not been able to communicate with their children.
The shooting was reported just before 8 a.m. local time.
"This is an isolated incident," Glendale police said in a statement, adding they were "not looking for a suspect."
Glendale is a suburban city in Maricopa County, about nine miles northwest of downtown Phoenix. Independence High has approximately 2,000 students.
You can share this story on social media: