'People aren't dumb': Sanders attacks Clinton's effort to distance herself from Wall Street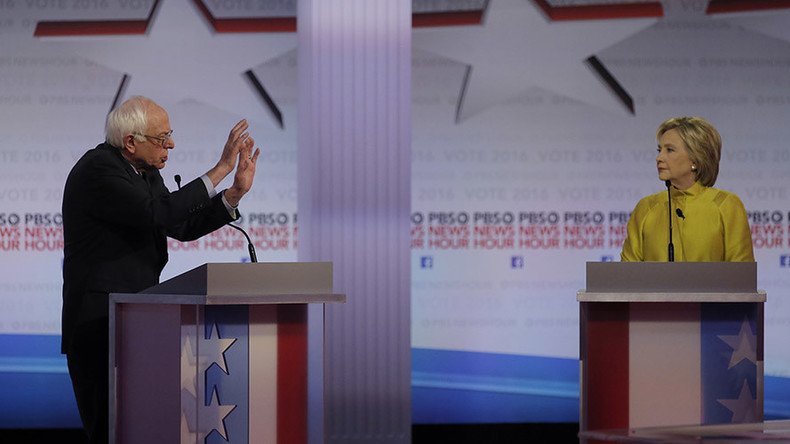 Senator Bernie Sanders criticized former Secretary of State Hillary Clinton as she said that Wall Street donations wouldn't influence her decision-making. The Vermont senator argued that she shouldn't "insult the intelligence of the American people."
In the sixth Democratic presidential primary debate, one of the most heated exchanges came when Sanders and Clinton exchanged jabs over who stands most ready to take on Wall Street and reform the campaign finance status-quo.
"What we are talking about in reality is a corrupt campaign finance system," Sanders told the University of Wisconsin-Milwaukee audience, alluding as well to the "rigged economy" run by too-big-to-fail banks, as Sanders has argued repeatedly.
Just as Sanders has been prone to initially take the rhetoric up a notch during the primary campaign, Clinton was equally inclined to match his commitment.
"We're in vigorous agreement here," Clinton said. But attempting to redraw the battle lines didn't prevent the heated moments that would follow.
Asked about the Priorities USA PAC supporting her, Clinton rejected the implication that its billionaire backers George Soros and Donald Sussman were akin to the Republican funders the Koch brothers, and that she would fall under their influence as a result of their support.
"I can't speak for the Koch Brothers. You're referring to a super PAC that we don't coordinate with, that was set up to support President Obama, that has now decided they want to support me. They are the ones who should respond to any questions," Clinton said.
"The real issue that I think the senator is injecting into this is that if you had a Super PAC like President Obama had, which now says it wants to support me – it's not my PAC – if you take donations from Wall Street, you can't be independent," Clinton continued, noting that in 2008, Obama led the presidential race in donations from Wall Street.
"Let's not in any way imply here that either President Obama or myself would in any way not take on any vested interest," Clinton added. She employed a similar tactic in the previous debate, accusing Sanders of making an "artful smear," but this time Sanders came back even harder.
"Let's not insult the intelligence of the American people. People aren't dumb," Sanders said. "Why in God's name does Wall Street make huge campaign contributions? I guess just for the fun of it."
The crowd erupted in laughter, something that usually happens in more light-hearted moments, but in this case it occurred at a sticking point in the debate over who has the character and judgment to fulfill campaign promises.
The exchange moved like a see-saw. When reminding Sanders and the audience that Obama pushed for the Dodd-Frank Wall Street Reform and Consumer Protection Act of 2010, what seemed to be a reasonable point from Clinton about the ability for a politician to accept Wall Street donations without becoming corrupt also left Sanders with an opportunity.
"No Wall Street executive has been prosecuted," Sanders said, promising he would go further than Obama has, acknowledging that financial institutions paid $200 billion in fines in recent years.
The next debate, to be held in Flint, Michigan, isn't until March 6. By that time, Clinton and Sanders will have been tested in 16 state primaries or caucuses.
You can share this story on social media: