Obama administration seeks to roll back human rights conditions on aid to Egypt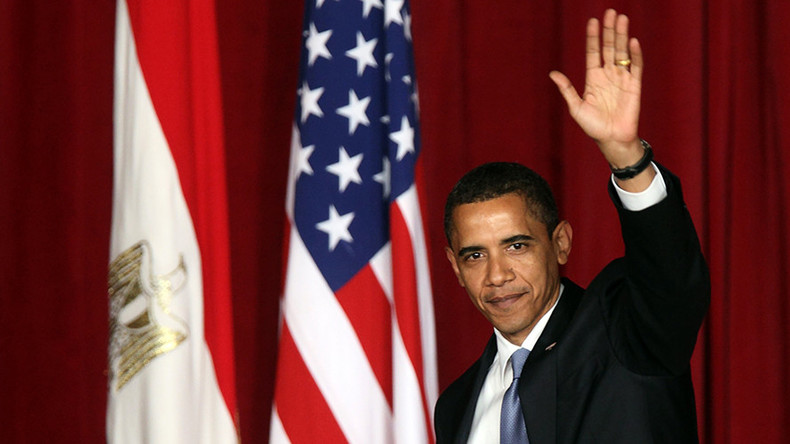 Despite reports that state repression in Egypt is taking place on a greater scale than it has been for generations, the Obama administration is seeking to roll back human rights conditions Congress had placed on foreign aid to Egypt's military.
The request, which was tucked into the Obama administration's 182-page budget proposal, seeks foreign aid to Egypt's military regime and "the sale of crowd control weapons to 'emerging democracies.'" The discovery was made by The Intercept.
If the new proposal, which was released on Tuesday, is adopted, it would end a Congressional restriction stipulating "that 15 percent of aid to Egypt is subject to being withheld based on human rights conditions."
Interestingly, Congress was able to temporarily waive those restrictions in a foreign aid bill in June of 2015, arguing it was in the national security interest of the United Station, according to Al-Monitor. The conditions were that Egypt would have to hold "free and fair" parliamentary elections and take steps to foster democracy and protect human rights for an additional $1.3 billion in military aid to be released.
The US State Department issued a scathing report in May of 2015, arguing that "while Egypt had implemented parts of its 'democracy roadmap' the overall trajectory of rights and democracy had been negative."
It pinpointed restrictions on freedom of expression, the press, and freedom of association, as well as lack of due process. It further said that "impunity remains a serious problem in Egypt."
It was well known at the time the Egyptians were "infuriated" by the report.
Cole Bockenfeld, deputy director for policy at the Project on Middle East Democracy, told The Intercept that the White House probably didn't want to explain why it had to waive restrictions this year.
"They had to basically do an assessment. … Here's how they're doing on political prisoners, here's how they're doing on freedom of assembly, and so on," Bockenfeld said.
The Guardian reported in January that Egypt has jailed more journalists than any other country on earth except China under President Abdel Fattah al-Sisi. Three reporters were imprisoned, one forcibly "disappeared" and was later charged with being a member of a banned organization, and six were referred to judicial hearings because of their work.
Also in January, Italian academic Giulio Regeni, who was researching labor unrest and independent trade unions in Egypt, went missing during a security crackdown on the fifth anniversary of the beginning of Egypt's revolution. His body was discovered nine days later by the side of the road marked with cigarette burns, bruising, and multiple stab wounds. The Guardian reported more than 4,600 academics worldwide have signed an open letter protesting his death and demanding an investigation into the growing number of forced disappearances. Egyptian officials appear to be cooperating with the investigation, according to the Italian foreign minister.
The budget also contains a request that would remove a provision from a law passed in 2012 in reaction to the Arab Spring protests that prohibits the transfer of tear gas and other crowd control weapons to countries that are "undergoing democratic transition."
"It's basically going to be free for all," Husain Abdulla, executive director of Americans for Democracy and Human Rights in Bahrain, told the Intercept when speculating on the results of the administration rolling back that provision.
Among the Middle Eastern countries seeking this equipment are Egypt, Saudi Arabia, and Bahrain – all of which are simmering with pro-democracy challenges.
You can share this story on social media: