US-led airstrikes destroy ISIS oil & gas plant (VIDEO)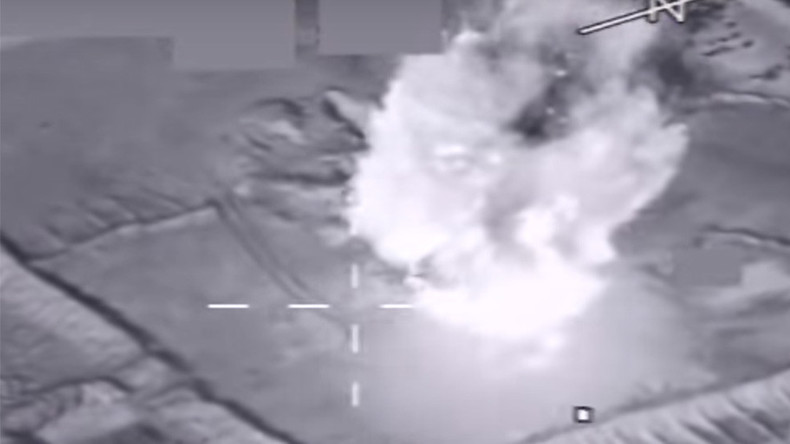 The Pentagon has released two more videos showing airstrikes destroying an Islamic State-controlled oil and gas plant in eastern Syrian. The military has recently been targeting the terror group's money supply and illicit oil production operations.
The videos, each over half a minute long, show two US-led airstrikes from February 2 on an Islamic State (IS, formerly ISIS/ISIL) oil and gas plant near Dayr Az Zawr in eastern Syria. The strikes are part of an effort by the US-led coalition to disrupt and destroy the group's oil production capabilities.
The videos were released at a briefing on Wednesday by Pentagon spokesman for Operation Inherent Resolve (OIR) Colonel Steve Warren, who was speaking from Baghdad. US Central Command said a total of four airstrikes had been carried out near Dayr Az Zawr against four separate IS oil plants.
In the first video, a view from the air shows a strike hitting the plant at the end of a pipeline, leading to a massive explosion that fills the screen.
In the second video, another airborne view shows "a strike against a wellhead in that same oil field." Pentagon spokesman Warren said the attack involved "a single munition which has been weaponeered to most effectively attack the wellhead and ensure that it cannot be quickly repaired."
The strike shows a single hit that sets off a massive explosion that travels over ground and reverberates over a wide area as white smoke fills the screen. As the blast recedes, several separate fires at the plant can be seen along with a large area of billowing smoke.
The new footage has been released amid an intensification of strikes on the militant group. On February 2, the anti-IS coalition conducted 20 strikes in total on targets ranging from oil and gas plants to IS mortar positions and weapon caches.
IS allegedly receives two-thirds of its revenue from the sale of its illicit oil production. The New York Times estimated that the terror group could earn $40 million a month through the production and sale of oil on the black market.
During Q & A, Colonel Warren was asked what percentage of the terror group's oil production facilities had been destroyed during the campaign and whether the tactic was still cost-effective considering the decreasing price of oil.
"[We] haven't run the numbers on cost of a bomb versus barrel of oil reduced," said Warren during the briefing. "What I'll tell you is our focus is to reduce or eliminate this enemy's ability to generate revenue to fund its terror activities, to fund its war fighting activities in Iraq and Syria and around the world."
Warren was also asked if striking the oil wells wasn't costing the US and its coalition more than IS was actually making off their production.
"We don't have fresh numbers, so we'll stick with the old numbers that we briefed about a month or so ago, a reduction of approximately 30 percent of this enemy's ability to generate revenue from oil," Warren added.
Colonel Warren also took the opportunity to criticize Russia, praising "the extraordinary precision of [US] airstrikes, which stand in stark contrast to the reckless indiscriminate bombing campaign that's been waged by the Russians."
Warren said Aleppo's two main hospitals had been destroyed by Russian and Syrian government attacks, and that "more than 50,000 Syrians are without any access to life-saving assistance."
These accusations had already been made back in December 2015, when Amnesty International released a report on Syria blaming Russia for failing to acknowledge civilian killings.
At the time, the Russian defense ministry dismissed the report due to its failure to provide any concrete evidence or new factual information, besides what it described as groundless assumptions and accusations.
"Once again, nothing concrete or new was published, only the same cliches and fakes that we have already debunked repeatedly," Russian defense ministry spokesman General-Major Igor Konashenkov said after reviewing the report.
"The report constantly uses expressions such as 'supposedly Russian strikes,' 'possible violations of international law' – a lot of assumptions without any evidence," he noted.
Moscow also brought into question the authenticity of the aerial photos provided by Amnesty International and called upon the NGO to at least name the sources of the information it had used in the report.
You can share this story on social media: