Dunkin' Donuts overcharged customers by $14 million – lawsuits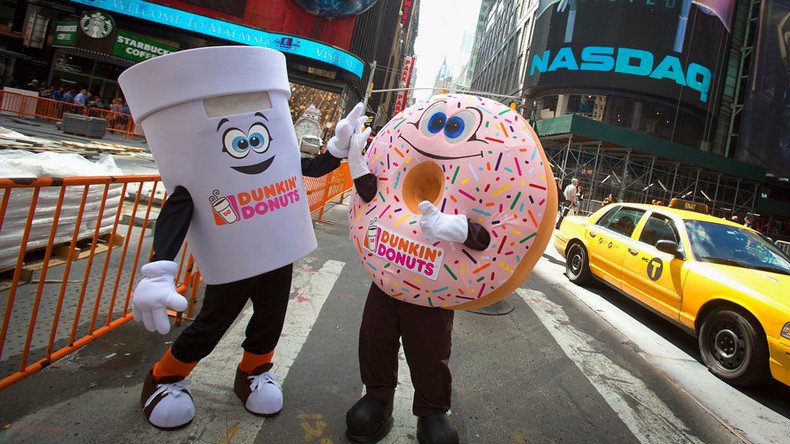 Coffee beans and other nontaxable food items at 12 Dunkin' Donuts locations in New York and New Jersey were taxed nonetheless, two lawsuits filed on Monday claim. The chain allegedly overcharged and collected $14 million in total over a three-year period.
"Dunkin' should stop dunking their customers and provide customers with refunds or discounts so they are made whole," Carl Mayer, the attorney who brought both lawsuits, told The New York Post.
The lawsuits purport New York customers doled out an extra $10 million, while those in New Jersey overpaid $4 million. Mayer believes about 70 percent of all transactions at the dozen stores included an unnecessary tax. Two New Jersey residents and three from New York City joined the lawsuits.
At a Fort Lee, New Jersey location, bags of pre-ground coffee were charged a 7 percent sales tax, according to the lawsuit filed in a New Jersey state court. Another Dunkin' Donuts store near Penn Station in New York also charged a sales tax on packaged coffee beans, a class-action lawsuit in the US District Court of Southern New York says.
"Dunkin' Donuts has over 1,000 restaurants in New Jersey and New York that are owned and operated by individual franchisees, who are expected to comply with all applicable state and federal laws including those relating to taxation," a company representative wrote in an email to the Eater blog.
"We are in the process of reaching out to the franchisees identified in the complaint in order to determine whether these taxes were charged to customers."
You can share this story on social media: