Establishment candidates suffer setback in New Hampshire primary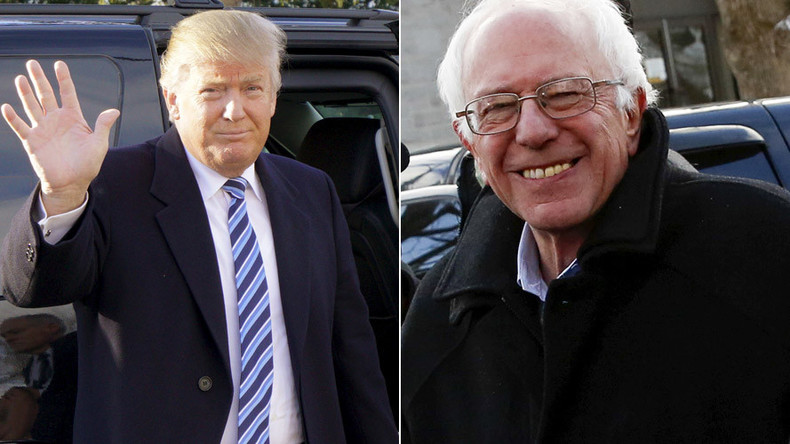 Residents of New Hampshire, a northeastern state of 1.4 million, are lining up to vote in the primary elections, choosing delegates for the Democratic and Republican conventions that will pick the parties' presidential nominees in July.
10 February 2016

04:41 GMT

The most recent vote tallies are in and according to The Guardian, they are:

Bernie Sanders: 59.9 percent
Hillary Clinton: 38.5 percent

Donald Trump: 34.5 percent
John Kasich: 16.4 percent
Ted Cruz: 11.5 percent
Jeb Bush: 11.2 percent
Marco Rubio: 10.5 percent
Chris Christie: 7.6 percent
Carly Fiorina: 4.2 percent
Ben Carson: 2.3 percent

02:46 GMT

Hillary Clinton and Bernie Sanders each took to their podiums to address their supporters in New Hampshire. Clinton was initially greeted by so much applause that she said, "I don't know what we'd do tonight if I had won." She then congratulated Senator Sanders and thanked her supporters for their hard work, saying "I still love New Hampshire and I always will."

She used her concession speech as an opportunity to reiterate her platform by saying, "I will work harder than anyone else." She then said the election will come down to who the best change maker is when a supporter screamed, "You are!"

She touched on her points about anti-bigotry, closing the gender wage gap, and her support for immigrant families. Before leaving the stage, she closed by thanking her supporters for their donations, "the majority of which was under $100," she said. "I know that doesn't fit with the narrative," she added, referencing the financial support she has received from financial institutions.

Vermont Senator Bernie Sanders was greeted with a celebratory response when he stepped on the stage. He began by thanking his supporters and volunteers who, "work night and day," and then proceeded to reflect on the lead up to his first victory in the primaries.

"Nine months ago, we began our campaign here in New Hampshire," he said. "We had no campaign organization, we had no money, and we were taking on the most powerful political organization in America."

However, Sanders also acknowledged that there are still many steps between him and the White House, saying, "We harnessed the energy and the excitement that the Democratic party will need to succeed in November. Republicans win when people are demoralized and voter turnout is low."

He also touched upon his main points in his campaign by arguing that "the American people will not accept a corrupt campaign system and we will not accept a rigged economy"

He also warned his supporters that their victory was only one in a long road.

"They've thrown everything at me except for the kitchen sink," he said, "and I have a feeling that the kitchen sink is coming soon."

02:13 GMT

Reuters reports that Kasich is projected to win second place for the GOP.

01:36 GMT

One Sanders fan was caught enjoying the senator's victory.

01:32 GMT

Poll data showing Sanders trouncing Clinton among the younger generation.

01:23 GMT

On the GOP side, Ohio Governor John Kasich is currently in second place, with about 16 percent of the votes, according to the Guardian. Jeb Bush, Ted Cruz, and Marco Rubio follow behind.

Trump, meanwhile, has about 34 percent of the vote, with just over 12 percent of the precincts reporting.

01:21 GMT

Bernie Sanders has become the first Jewish person in American history to win a presidential primary.

It won't get much coverage, but Bernie Sanders is the first Jew EVER to win a Presidential primary in U.S. history. Ever.

— Adam Kuperstein (@AKuperstein) February 10, 2016

01:18 GMT

The party has begun at Trump's campaign headquarters.

01:14 GMT

As Fox News reports, no Republican has ever won the party's nomination without winning either Iowa or New Hampshire. If that history is any indication, it would suggest that Senator Ted Cruz and Trump are the clear front-runners for the 2016 GOP nomination.