Fast and furious: Warehouse drone racing brings sci-fi sport to life (VIDEO)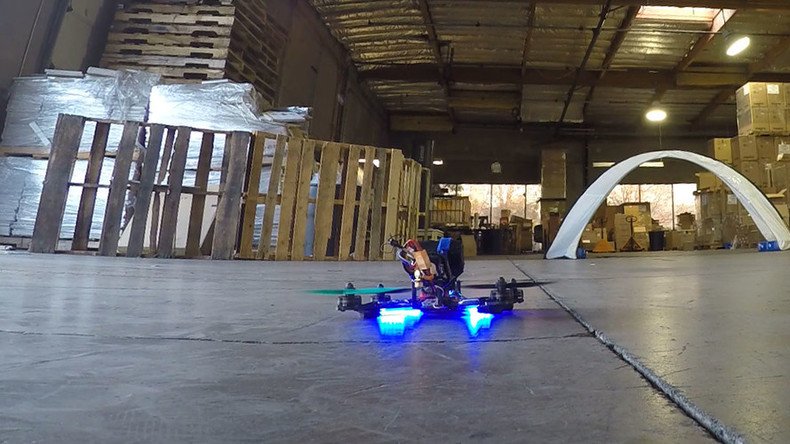 Zooming through mid-air checkpoints at high speeds, quadcopters are making the fantasy of Star Wars podracing into an exciting and competitive reality.
A video produced by drone manufacturer Propsman shows just how fast and furious a quadcopter race can become.
Filmed in a warehouse in San Francisco, two LED-lit drones can be seen battling it out amongst gangways of cardboard boxes and low-lying canvas waypoints. It's breathtaking stuff:
The pilots' skills are pushed to the limit during the 90-second clip, which ends dramatically with a mid-air collision.
Drone technology has certainly cranked up a notch in recent years and now almost anyone can navigate their own mini flying machine.
The US Federal Aviation Administration estimate that more than 600,000 drones will be sold across America this year.
It was really only a matter of time before the world saw its very first professional Drone Racing League.
Known as FPV (First Person View) drone racing, the robotic sport sees pilots don video goggles, giving them a high-definition perspective of the racecourse in front of them. Competitors have to guide their drone through a series of challenging vertical obstacles.
Full details have yet to be announced, but the tournament's first round will take place on February 22 at the Sun Life Stadium in Miami, Florida. Subsequent tournaments are to be held at other venues around the world.
You can share this story on social media: