Widow of ISIS leader charged with conspiracy in death of American – Justice Dept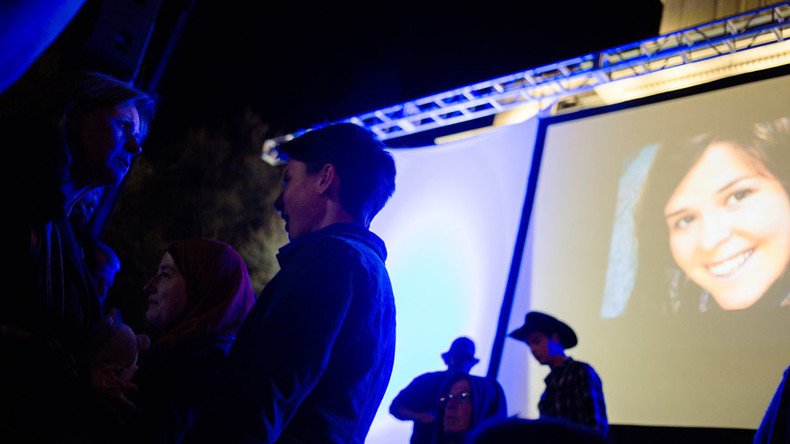 The wife of a deceased senior Islamic State leader was charged by the US Justice Department on Monday with conspiracy in the death of American aid worker Kayla Mueller, who was allegedly kidnapped, repeatedly raped, and then killed.
The Justice Department charges were filed in a Virginia federal court against Nisreen Assad Ibrahim Bahar, an Iraqi citizen also known as Umm Sayyaf, Reuters reported.
Umm Sayyaf, 25, was the wife of Abu Sayyaf, a senior leader with Islamic State (IS, formerly ISIS/ISIL), who died in a US military operation at his residence in Raqqa, Syria in May of 2015.
READ MORE: US Special Forces kill senior ISIS commander in Syria raid
Umm Sayyaf was captured during that operation. She later admitted to FBI agents that she had helped to hold Mueller and had been solely responsible for her.
She also said that the head of Islamic State, Abu Bakr al-Baghdadi, "owned" Mueller during her captivity at Sayyaf's residence, and that "owning" her was the equivalent of slavery, according to the complaint.
Daily Beast Feds Charge ISIS Widow in Americans Death but Wont Say Who Killed Her Daily Beast The Justice Department…

— ValeraGromov (@ValeraGromovi4) February 9, 2016
Mueller, 26, from Prescott, Arizona, traveled to Turkey in December 2012 to work for a Turkish organization providing humanitarian aid to Syrian refugees along the Syrian border.
The Justice Department complaint said Mueller and another individual were kidnapped at gunpoint by IS soldiers in northern Syria in August of 2013. She was held hostage by the terror group for about a year and a half before she died on or about February 7, 2015. However, the cause of her death is contested.
The terror group said in February of 2015 that Mueller had been killed in an airstrike conducted by Jordan. US officials denied this, but have not offered an alternative explanation. According to ABC, the US was trying to pinpoint Sayyaf's location in January of 2015 in order to capture him and rescue Mueller.
A few days later President Obama said the US was working to identify her location, IS claimed she was dead. American officials confirmed the news shortly afterwards.
According to the complaint, in August of 2014 two young Kurdish teenagers were kidnapped by IS from northern Iraq and taken to a prison in Syria where Mueller was being held. On or about September 24, 2014, the Kurdish girls and Mueller were transferred to the custody of Abu and Umm Sayyaf. Abu Sayyaf allegedly reported to IS' al-Baghdadi and was the group's minister of oil and gas. The Sayyafs maintained several homes where they held Mueller and the two Kurdish girls, as well as other female captives.
The complaint said that at various times "they were handcuffed, locked in rooms and Mueller was sexually abused by Baghdadi, who forced her to have sex with him." Other girls were sold or traded to IS men. Umm Sayyaf knew how Mueller was being treated by Baghdadi, and she is alleged "to have threatened the women, telling them she would kill them if they did not listen to her," according to the complaint.
"Sayyaf is currently in Iraqi custody for her terrorism-related activities. We fully support the Iraqi prosecution of Sayyaf and will continue to work with the authorities there to pursue our shared goal of holding Sayyaf accountable for her crimes," said Assistant Attorney General John Carlin in a statement. "We will continue to pursue justice for Kayla and for all American victims of terrorism."
If convicted, Sayyaf faces a maximum penalty of life in prison.
You can share this story on social media: