Former NYC Mayor Michael Bloomberg considering presidential run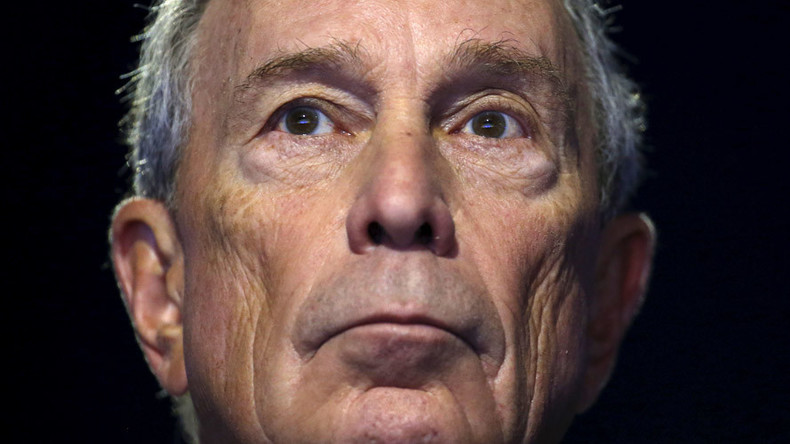 Billionaire Michael Bloomberg, the former mayor of New York City, said he is considering mounting an independent campaign for president, according to the Financial Times. He told the paper the current presidential campaign has been an "insult to voters."
"I find the level of discourse and discussion distressingly banal and an outrage and an insult to the voters," Bloomberg, 73, told the Financial Times. He said that the US public deserved "a lot better."
Bloomberg said he was "looking at options," but would need to start putting his name on ballots across the US at the beginning of March in order to stage a serious campaign. That's the latest point his advisers believe he could enter the race and still qualify to appear as an independent candidate on the ballot in all 50 states.
"I'm listening to what candidates are saying and what primary voters appear to be doing," he said.
The announcement is the first time the media mogul has acknowledged a possible run. The confirmation comes after The New York Times reported in January that the billionaire had told his advisors to draft a plan for a run as an independent candidate. Bloomberg could spend up to $1 billion of his estimated $39 billion fortune on his campaign.
The NY Times reported that Bloomberg's advisors said the former New York mayor was "galled by Donald Trump's domination of the Republican" side, and troubled by "Hillary Clinton's stumbles and the rise of Senator Bernie Sanders of Vermont on the Democratic side."
Both Trump and Sanders have large leads over their respective rivals in New Hampshire, which will hold its primary on Tuesday. Trump had a strong second place showing in the Iowa Caucus last week, and Sanders was beaten by Clinton by only 0.2 percent of the vote.
Bloomberg was a Democrat before becoming a Republican and running for mayor of New York City in 2001. He then became an independent during his administration, which ran the Big Apple from 2002 to 2013.
During his tenure as mayor, Bloomberg turned New York's $3-6 billion deficit into a $3 billion surplus, while increasing property taxes and spending. He drove up the tourist business, attracting 54 million visitors a year, and created a healthier city, where smokers are banned in some private and all public spaces. He also opened up 800 acres of outdoor space along the city's shorelines and expanded bike lanes.
The crime rate declined under Bloomberg, as it did in other US cities, but a stop-and-frisk policy under which 4 million stops were made by police between 2004 and 2012 led to outcry claiming black and brown residents were being discriminated against. As a result, a federal court case was brought against the city that found the policy unconstitutional. However, the city appealed the decision under Bloomberg.
Homelessness increased under his tenure as he cut funding for a public housing strategy, which was further exacerbated by funding cuts on the state and federal level. The problem has continued to worsen under his successor, Bill de Blasio.
The NY Times reported that Bloomberg had commissioned a poll in December to see how he could compete against Clinton, and he intends to conduct a second poll after the New Hampshire primary to gauge whether there is an opening for him.
According to the newspaper, early campaign strategy plans would present the former mayor as "a low-key and cerebral personality," giving a series of detailed policy speeches with an intense TV advertising campaign. The ads would introduce him as "a technocratic problem-solver and self-made businessman who understands the economy and who built a bipartisan administration in New York."
The Financial Times reported that experts think an independent candidate would struggle "in a system that is heavily skewed to favor candidates from the two main parties."
No independent candidate has ever been elected to the White House. Bloomberg has close ties to Wall Street and invented the Bloomberg terminal, a data terminal rented by many in the financial world. However, he also has liberal views on climate change, abortion rights and gun control.
You can share this story on social media: