Super Bowl celebrations turn violent: Cops arrest 12 & use pepper spray in Denver (PHOTOS, VIDEO)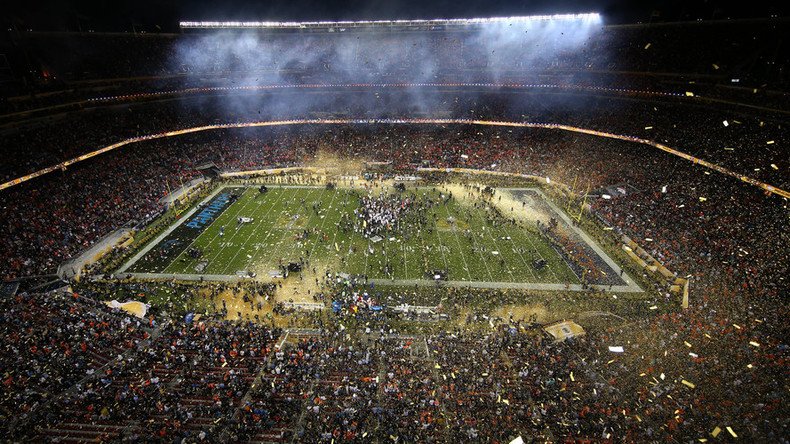 Police in Denver made 12 arrests and had to use pepper spray to disperse unruly football fans celebrating the Denver Bronco's victory in the Super Bowl on Sunday night. Law enforcement officers cordoned off streets, while a police car was also damaged.
After the game, which the Broncos won, supporters started to spill out on to the street from local bars.
Law enforcement officers in riot gear fired pepper spray and fired gas-filled pepper balls during confrontations with Broncos fans in the downtown area. They also closed off multiple streets in order to stop the flow of people making their way to the city center.
Police spokesman Sonny Jackson noted a total of 12 arrests were made, for criminal mischief, starting fires and throwing objects at the police. He also said two people were detained on gun related charges.
Police confirmed that no officers were injured during the violence, though a police vehicle suffered a shattered window, while local properties were damaged after trash cans were thrown.
Jackson did say the majority of fans were well behaved, though there was a minority who caused trouble.
"Overall, things went pretty well," the police spokesman said, as cited by the Denver Post. "There were a handful of people who were somewhat unruly."
One onlooker told the Denver Post that the police were within their rights to retaliate.
"It's reasonable when you get a bottle thrown at you. I saw a beer bottle go through the back of a cop car. It would have gotten out of hand without the police presence," said 21-year-old Tamrick Ortegon, who was in the downtown area.
However, not everyone shared his few, with other locals accusing the police of using excessive force and making the situation worse.
"It's a mess down here. All of this police stuff is so excessive. If there's something that goes down, then I guess I'm glad there are so many around, but otherwise stand back. Everyone is just trying to celebrate," Jessica Palmer commented.
There was also rioting in Denver the last time the Bronco's won the Super Bowl in 1999. Fans celebrated the victory by overturning cars and benches and lighting bonfires. Police made 20 arrests, while the total damage caused was estimated at $200,000.
You can share this story on social media: