'We need to stay for years': Outgoing US commander in Afghanistan fires parting shots
Departing Resolute Support Mission commander John F. Campbell has been trying to convince DC politicians that the war against the Taliban and Islamic State in Afghanistan is nowhere near won – and that US boots will need to be on the ground for years.
"We shouldn't sugar-coat it," the four-star general who has led the US deployment in Afghanistan since July 2014, told The Washington Post. "I do believe we're going to have to have a continued modest forward presence for years to come."
In his testimony to the House Armed Services Committee this week, and in multiple media interviews, Campbell, who is retiring at 58, repeatedly warned that a mooted US troop withdrawal would "put the whole mission at risk," allowing the Taliban to "wait us out." US President Barack Obama initially planned to return almost all American troops from the country by the end of his term in January 2017, but the White House has recently spoken of reducing numbers from 9,800 to 5,500 through the current year as a compromise.
"Afghanistan is at an inflection point," Campbell told congressmen. "Afghanistan has not achieved an enduring level of security and stability that justifies a reduction of our support… 2016 could be no better and possibly worse than 2015."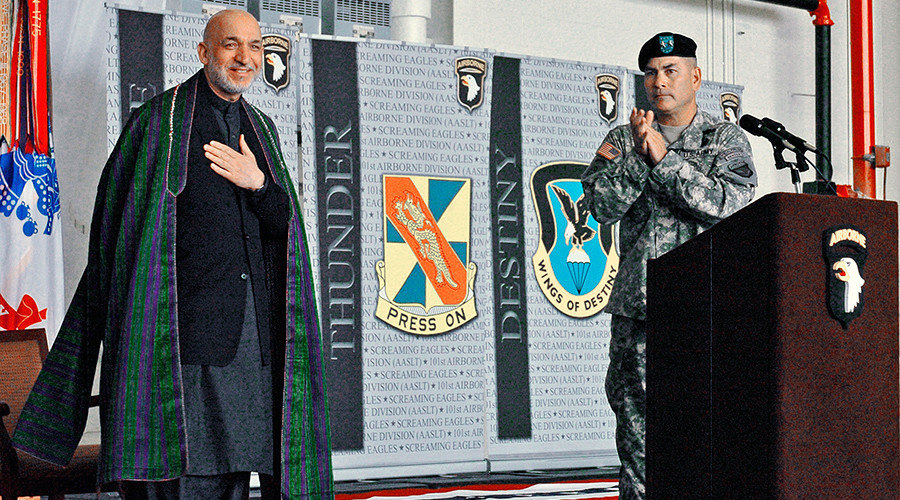 Some have claimed that the resurgent Taliban is control of up to 30 percent of the mountainous country, but Campbell has insisted that the Islamist group is only in charge of 2 percent of districts, and "has influence" in 4 percent more. Campbell said it has been distracted by in-fighting with rival Islamists, Islamic State, as well as remnants of Al-Qaeda.
Yet, the horizon is not in sight.
The international force, supplemented by NATO allies, consisting of officers and experts has primarily worked in organizing and training the local army. Campbell said its performance was "uneven but not unexpected" last year, and compared the process of its training to "building an airplane while in flight."
Incidentally, close air support – aircraft, helicopters and drones working with ground forces on a million – has been the Achilles Heel of the anti-Taliban force. In previous years, the US provided up to 150 attack helicopters, while the native helicopter force has now been reduced to a mere three Indian-made craft.
"One of the things the Afghan forces ask for every day is close air support. Close air support is just a capability gap that we knew was going to take years and years to build," said Campbell. "We need to realize that if we recruit a guy now you're not going to see him [as a pilot] for two to three years."
Campbell's replacement, Lt. Gen. John W. "Mick" Nicholson Jr., who has already been confirmed by senators, is expected to do his own ground assessment, once he flies out to Kabul. But recent Pentagon thinking has shifted, from the idea of aborting the "endless war," to an admission that a quick withdrawal would nullify all the sacrifices made since the US invaded Afghanistan in the aftermath of 9/11 in 2001.
"The local forces need air support, intelligence and help with logistics. They are not going to be ready in three years or five years. You have to be there for a very long time," a senior Pentagon source told the Washington Post last week.
Yet Ali Aqbar Qasemi, himself a former military commander and current parliamentary deputy, told RT that "the US has promised to build an effective army here for fifteen years, why believe that they can do it now all of a sudden?"
"All the foreign powers in Afghanistan follow their own agendas, none of them have the country's interests at heart," said the politician.
Prominent anti-war activist Dave Swanson is also unsure that staying the course will bring benefits to anyone but the Pentagon's military contractors.
"What the US commanders are doing in the country is to their own knowledge counter-productive, and as incompetent as it can be, yet they want to continue it," he said in an interview with RT.
You can share this story on social media: