Jeb, not George: Bush mistakenly introduced as his brother at NH event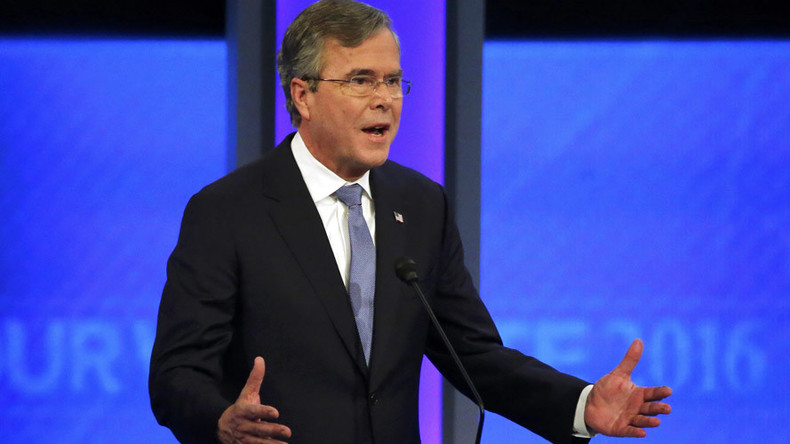 Former Florida Governor Jeb Bush, now a Republican candidate for president, has been living in the shadow of his older brother and father, so it probably didn't help when the former governor of Pennsylvania Tom Ridge introduced Jeb as "George Bush."
In fairness to Ridge, he once served in Jeb's brother's cabinet as America's first Secretary of Homeland Security.
Tom Ridge slips up: Let's elect "George" Bush, he says in introducing Jeb

— Manu Raju (@mkraju) February 6, 2016
"I worked for his father and brother, so you can forgive me," Ridge said, correcting his mistake.
Bush didn't seem phased by the mistake, appearing relaxed during the town hall answering questions, cracking a few jokes, and taking a swipe at Democratic presidential candidate Bernie Sanders.
"We have more organization on more campuses than any campaign other than the Bern. He brings joy to the campaign and I think in a time where everyone's just deeply depressed, he gets credit for that. But his ideas are going to create incredible dangers for young people," Bush told the crowd.
When asked about Donald Trump during Saturday's town hall, Jeb Bush said, "I'm not a psychologist or a psychiatrist, but he needs therapy."
Earlier this week, the "independent Super PAC" supporting Bush's campaign launched an ad featuring Jeb's brother, "number 43".
It was a weekend for blunders on the Republican side with Saturday night's New Hampshire debate seeing one of the most awkward entrances since Jennifer Lawrence tripped at the Oscars.
Ben Carson and Donald Trump appeared to not hear their names being called out. They stood awkwardly slightly off stage while the other candidates walked past them.
They were finally called to the stage a second time with the announcers blaming the exceptionally loud crowd for making it hard to hear.
You can share this story on social media: