Crane collapses on cars in Lower Manhattan, 1 killed (PHOTOS, VIDEO)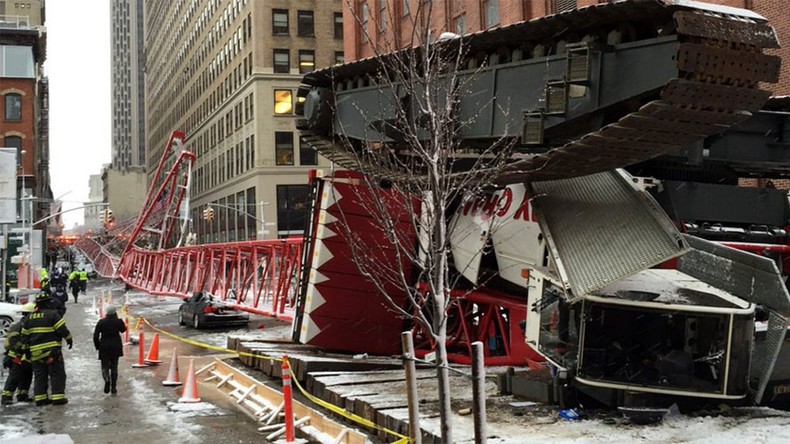 One person has died and three have been injured after a crane collapsed onto cars in the TriBeCa area of Lower Manhattan, according to the FDNY.
Footage filmed and uploaded through the new Ruptly Stringer app by an eye witness at the scene shows the devastation caused in the area by the fallen crane, as emergency services and construction workers begin the removal operation.
"I just felt it. It felt like a bomb," one witness said to CBS New York. "This is just crazy, it's huge — it's enormous."
"It was right outside my window," Robert Harold, who works nearby, told AP. "It was a crashing sound. You could feel the vibration in the building. I looked out the window and saw it lying in the street."
Officials confirmed one person was killed three people have been injured in the collapse - two with non life threatening injures and one with minor injuries.
The victim is understood to have been a pedestrian. "He looked like a maintenance worker," Edward Mullins, president of the NYPD's Sergeants Benevolent Association told the New York Post. "He was dressed in a maintenance uniform. He didn't look like a construction worker. We placed a blanket over him."
The crane, which was up to 18 stories high, fell at approximately 8.24am local time Friday across several parked cars at 40 Worth Street, between Broadway and Church Street in what New York's Emergency Management Twitter account described as a "construction accident".
Authorities are also investigating reports of a gas leak in the area and have shut off a gas main in the neighbourhood as a precaution.
"We're aware of the odors, we are working with the FDNY to excavate and cut a low pressure gas main at West Broadway and Church St.," Mike Clendenin, a spokesman for the energy company Con Edison, told New York Daily News.
Multiple emergency services personnel are at the scene with 138 firefighters from over 33 units attending, as well as numerous paramedics and police officers.
The crane was operated by Galasso Trucking & Rigging Inc and owned by Bay Crane, officials confirmed in a press conference Friday.
No causes for the crane's collapse have been offered by officials at this stage, although the crane had not yet been used by construction workers on Friday morning due to windy conditions in the area.
"We saw that the crane was a little bent and it was still all the way up in the sky," one witness told CBS. "The cable had snapped two days ago lifting something up so that crane should have been completely out of commission. Somehow, they left the crane all the way up and last night when we came by, the top of the crane was already sideways."
A wrecking ball which was attached to the crane is reported to have broken away from the crane while it fell, smashing through the roof of a nearby building.
A number of nearby buildings have been evacuated while various streets in the area have been closed and diversions are in place for bus and rail, with the No. 1 subway trains bypassing the Franklin Street and Chambers Street stations as a result of the collapse.
New York Mayor Bill de Blasio has surveyed the scene of the collapse and has been briefed by NYPD and FDNY about the ongoing operation.
"This is a very, very sad incident, we've lost a life," de Blasio said, confirming a full investigation is underway. "But if you go out there in the street as I did and see what happened here, thank God it was not worse."
In March 2015, 10 people were left injured along Madison Avenue after air conditioning unit broke away from the crane, crashing to the ground. In 2010, a Bay Crane owned crane also collapsed at a construction site in Lower Manhattan after workers failed to secure it properly, the New York Post reported.
You can share this story on social media: