Classified data revealed in personal emails of ex-secretary of state Powell, Rice's aides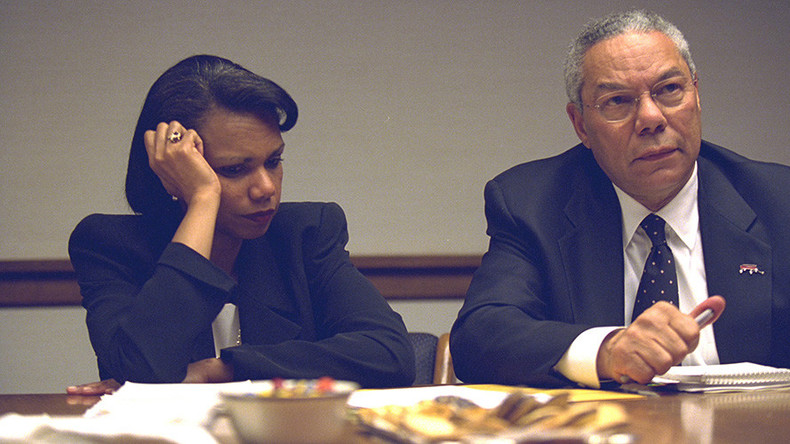 Former US Secretary of State Colin Powell and the senior aides to his successor, Condoleezza Rice, reportedly used personal email accounts to receive a dozen messages with classified information in them, a State Department probe has revealed.
The State Department's Inspector General has found that a total of 12 emails examined from the agency's archives contained national security information that's now classified as "secret" or "confidential."
Ten of them were sent to Rice's immediate staff and two were sent to Powell, NBC reported, citing a letter from Inspector General Steve Linick to Under Secretary of State Patrick Kennedy. The memo was then obtained and published by the New York Times.
In his letter, Linick stressed that none of the emails were marked classified at the time. However, he wrote that there are grounds to believe that "the documents could be potentially sensitive" given that some of them had a NODIS ('No Distribution') reference.
The emails came from a batch of 19 separate documents, ranging in date from February 2008 through June 2008, that Linick reviewed as a part of a probe into five secretaries of state and their aides, in order to determine whether the documents should be classified.
He left open the possibility that more classified emails "may reside" in the State Department's "unclassified paper and electronic archives" associated with Powell and Rice, advising that they be removed.
"The State Department has received State Inspector General Linick's memo," State spokesman John Kirby said in a statement. "We will be responding, but I do not have any additional comment to share."
The Department has 10 days to respond to the recommendations, which are due by February 14.
The finding outraged Powell, the secretary of state from 2001 to 2005, as he has strongly disputed the sensitivity of the emails he received from American ambassadors, saying that to his "judgment" it is "still unclassified."
"I wish they would release them," Powell told NBC News, "so that a normal, air-breathing mammal would look at them and say, 'What's the issue?'"
Powell said that the turned to his private email because the official email system "at the time was inadequate."
"I did not use my email account for any classified matters because I had a classified computer on my desk," he added.
According to Politico, two FBI agents visited Powell late last year – a fact that the former secretary acknowledged – to talk about email practices during his tenure.
"Now, 11 or 12 years later, as part of a whole process of reviewing things somebody in the department says, 'Well, they're classified.' My response to that is no they were not," Powell said.
NBC was unable to speak to Rice, who now is a professor at Stanford University. However, her chief of staff, Georgia Godfrey, told the news channel that Rice "did not use email as secretary nor use a personal email account,"
"My understanding is that the report is in reference to emails sent to her assistant reporting diplomatic conversations and they contained no intelligence information," Godfey said via email. Godfrey also told Politico that Rice had not been contacted by the FBI.
The use of personal devices and email by the former secretaries has been under scrutiny amid a scandal over Democratic candidate Hilary Clinton's similar behavior. She used a private account and a server she installed in her house. In mid-January several dozens of her emails were described as "containing classified information, determined by the IC element to be at the CONFIDENTIAL, SECRET and TOP SECRET/SAP levels."
Clinton's private email set-up first surfaced in March 2015, leading to heavy criticism. The FBI launched an investigation to find out who at the State Department sent the information to Clinton's private email account.
Under the Freedom of Information Act, the State Department started releasing Clinton's emails monthly in May 2015. The former secretary submitted about 55,000 emails, and the most recent batch was made public January 29. The State Department says it plans to be done with email posting by the end of February.
Clinton's server did not encrypt emails, a fact that let critics raise concerns about hackers who may have obtained classified information from her correspondence. The Clinton campaign maintains there were no breaches in security.
However, in September, Clinton for the first time publicly apologized for using her private email server, calling her actions "a mistake."
"And I'm trying to be as transparent as I possibly can," Clinton told David Muir of ABC News.
You can share this story on social media: