Obama to propose new oil tax to fund $300 billion in transportation spending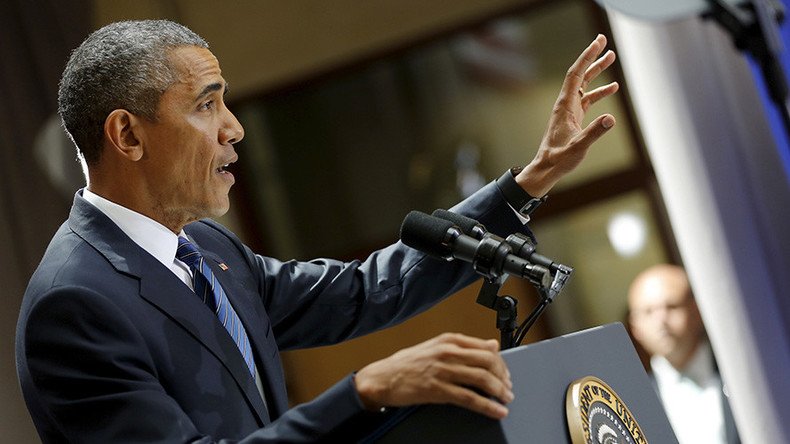 A new White House plan to combat climate change and update transportation systems would impose a fee of $10 per barrel of oil to fund $300 billion in spending over the next decade. President Barack Obama is expected to make his case to Congress next week.
Promoting a "21st century clean transportation system," the Obama administration unveiled its transportation budget Thursday, first to Politico via anonymous senior officials, then to the rest of the media through a fact sheet.
"This new approach to investment and funding is one that places a priority on reducing greenhouse gases, while working to develop a more integrated, sophisticated and sustainable transportation sector," the fact sheet read.
Public transit, high-speed rail, and self-driving cars would benefit in the effort aimed to cut carbon emissions and reduce traffic jams, according to the senior Obama officials.
Whether it is called a fee or a tax, the $10 surcharge on each barrel of oil will be paid by oil companies, which will manage costs by raising prices on pump gasoline as well as other products. The American Petroleum Institute estimates gas prices would go up by 25 cents a gallon under the proposal, but the White House believes consumers will save in the long run.
The US interstate highway system no longer serves as a benefit to the economy, senior Obama officials told Politico. It keeps drivers in traffic for 7 billion hours a year, costing $160 billion in so-called hidden taxes, they said. The White House also noted that transportation makes up nearly a third of US carbon emissions, and Obama's plan increases green energy infrastructure spending by about half.
"By placing a fee on oil, the President's plan creates a clear incentive for private sector innovation to reduce our reliance on oil and at the same time invests in clean energy technologies that will power our future," the fact sheet said.
Patrick DeHaan, senior petroleum analyst for GasBuddy.com, told USA Today the tax would be felt by consumers of all sorts of products, not just gasoline.
"It's going to hit airlines, it's going to hit transportation companies, it's going to hit you and I – even down to the plastic bags you use at the grocery store and makeup," DeHaan said.
The $10 oil barrel tax would fund about $32 billion in spending every year. The bulk of it would be spent on "enhanced transportation options," the Obama administration's phrase for metro systems like light-rail trains or buses, as well as upgraded freight rail and high-speed rail systems already partially ongoing from the 2009 stimulus package. The stimulus grant program TIGER, designed to promote economically and environmentally beneficial multi-modal projects, would receive an increase of 150 percent.
Nearly a third of the money, about $10 billion a year, would go towards other incentives for businesses to pare greenhouse gas emissions with land-use, electric-vehicle charging, public transit, or other programs. One such incentive is the Climate Smart Fund which compensates states for their climate-friendly choices.
Some $2 billion a year will be spent researching and developing clean technologies for transportation like self-driving cars, charging stations, and even more fuel-efficient airplanes, plus other climate-friendly technologies.
At the end of 2015, Congress passed and the president signed the FAST Act, allocating $305 billion to transportation projects. But without an overhaul of those projects, the White House views that spending as unsustainable.
"We're still living in a vision that was great for its time, but not for this time," one senior administration official told Politico. "This is a new vision. We're realistic about the near-term prospects in Congress, but we think this can change the debate."
Raising the fuel tax has never been politically popular, and even though the national average price of gas on Thursday was $1.765 per gallon, that still may not be cheap enough for many Americans to welcome an increase. Since 1993, US drivers have paid the federal government 18.4 cents in taxes for each gallon of gas they pump.
Obama is also open to using corporate tax revenues to cover some of his plan's costs, but the $10 surcharge on oil barrels is what's being pushed as the priority.
This marks a change for the administration, which in 2009 refused to support a transportation bill under a Democratic majority in the Congress. Obama did not want to raise taxes his first year in office.
At the time, Secretary of Transportation Ray LaHood (2009-2013) told NPR's All Things Considered, "We have a lousy economy," and, "This is not the time to be telling people we're going to raise gasoline taxes."
Though Congress is unlikely to welcome Obama's proposal with open arms, last year, Chairman of the Senate Environment and Public Works Committee Senator James Inhofe (R-Oklahoma) showed a willingness to support raising funds for the Highway Trust Fund, telling reporters the way to get conservative Republicans onboard is to not use the word "tax."
"It's not a tax. It's a user fee," Inhofe said.
Democratic presidential candidate Hillary Clinton has yet to weigh in but has generally supported Obama's efforts on climate change. She has, however, promised not to raise taxes on families with annual incomes under $250,000.
You can share this story on social media: