Some European countries want Russian sanctions lifted, McCain says US to decide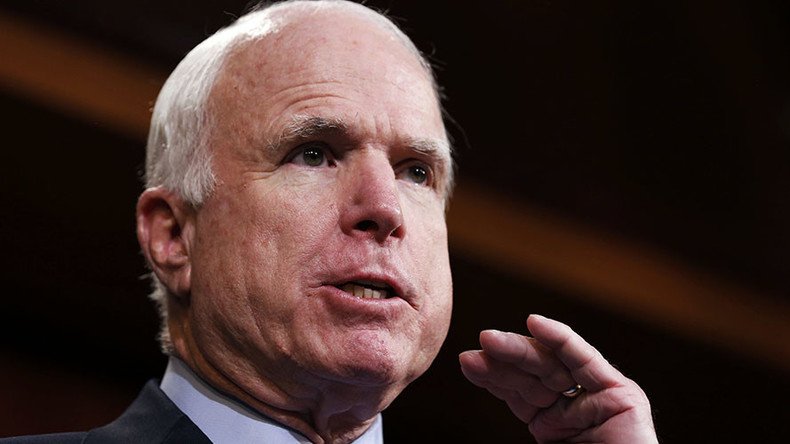 Senator John McCain says the US will decide when EU sanctions on Russia can be lifted. The issue of sanctions is expected to be discussed next week in Munich, with many EU countries unhappy that the restrictions are adversely affecting their economies.
"I think there is clearly a lot of conversation amongst the Europeans about lifting the sanctions…There are many countries that are looking for the exit sign," McCain said, speaking to Sputnik. "I have been hearing it for months, that there is enormous pressure in a lot of countries, particularly Germany, to lift the sanctions."
However, the former failed US presidential candidate believes it is up to Washington if and when sanctions are eventually lifted, saying that the final decision will "to some degree depend on American leadership."
The issue of sanctions is expected to be discussed at next week's Munich Security Conference, which Russian Prime Minister Dmitry Medvedev is set to attend.
"It [sanctions] will be in the back-chatter, but it won't be visible," McCain said. "It won't be out in the open in the conference, but there will be a lot of conversations among the Europeans."
McCain is right about one thing – the EU is unhappy about losing billions of euros in trade following the implementation of a retaliatory embargo by Moscow.
France's Minister for the Economy, Industry and Digital Affairs Emmanuel Macron said in January that Paris will look to assist in the lifting of Western backed sanctions on Russia by the summer.
This is a view shared by representatives from the German-Russian Chamber of Commerce AHK, who are convinced that sanctions against Russia should be reviewed.
The organization's president Rainer Seele mentioned that 80 percent of German businesses had felt the economic impact of the sanctions.
"The political effect of the sanctions is not noticeable, say representatives of the companies surveyed," according to Seele.
In December, Italy delayed an EU decision to extend economic sanctions, demanding that the measure be further discussed within the bloc following a meeting of EU envoys in Brussels.
US Vice President Joe Biden admitted in October 2014 that America's leadership had to embarrass Europe to impose economic sanctions on Russia over the crisis in Ukraine, even though the EU was opposed to such a motion.
"It is true they did not want to do that," Biden said.
"It was America's leadership and the president of the United States insisting, and almost having to embarrass Europe to stand up and take economic hits to impose costs," the US vice president declared.
EU sanctions against Russia were initially introduced in July 2014 for one year and were later extended over the crisis in Ukraine and the reunification with Crimea. They included restrictions on lending to major Russian state-owned banks, as well as defense and oil companies. In addition, Brussels imposed restrictions on the supply of weapons and military equipment to Russia as well as military technology, dual-use technologies, hi-tech equipment and technology for oil production.
Russia responded by imposing an embargo on agricultural produce, food and raw materials against countries that joined anti-Russian sanctions. Imports of beef, pork, poultry meat, fish, cheese, milk, vegetables and fruit have been banned. Moscow also launched a policy of import substitution.
You can share this story on social media: