NASA to send 13 tiny satellites into deep space in preparation for manned Mars mission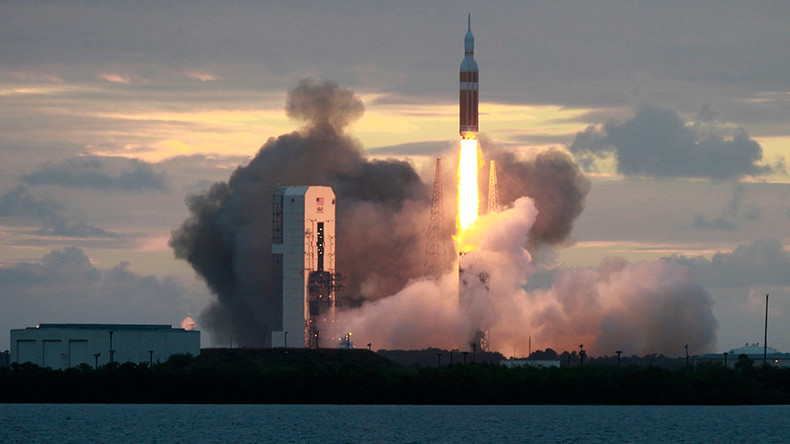 In NASA's first Space Launch System testflight, 13 shoebox-sized satellites called CubeSats will be sent into deep space to learn, among other things, how the environment will affect astronauts on a future Mars mission.
The SLS, which replaces the Space Shuttle Program, is set to launch for the first time in 2018 without a crew, on what will be called Exploration Mission-1, or EM-1, paving the way for manned missions by 2023. The Orion spacecraft, on which Mars-bound astronauts will eventually ride, will sit atop the SLS rocket for the testflight, carrying the 13 CubeSats, each weighing around 2 pounds.
"The SLS is providing an incredible opportunity to conduct science missions and test key technologies beyond low-Earth orbit," Bill Hill, deputy associate administrator for Exploration Systems Development, said in a statement on NASA's website. "This rocket has the unprecedented power to send Orion to deep space plus room to carry 13 small satellites – payloads that will advance our knowledge about deep space with minimal cost."
SkyFire, a CubeSat developed by Lockheed Martin, will perform a "flyby" of the moon where it will collect data using its onboard sensors. Another CubeSat, Lunar Flashlight, will point a laser at the moon's permanently dark south pole to map out water ice.
Then there is the Lunar IceCube, to be built by Morehead State University in Kentucky, which will orbit 62 miles from the moon in search of water ice and other resources. One last CubeSat developed for studying the moon is called LunaH-Map, which will chart the hydrogen in craters and other areas of the south pole.
Other CubeSats will go further. One called Near-Earth Asteroid Scout, or NEA Scout, will approach an asteroid to document its position, while another known as BioSentinel exposes yeast cells to deep space radiation to bring home knowledge of how life forms handle the harsh environment. Then there is CuSP, which NASA bills as a "space weather station" for its ability to measure particles and magnetic fields.
More CubeSats will be announced soon, NASA says, once international space partners put forward three of their own and NASA's Cube Quest Challenge, a contest for private enthusiasts who wish to innovate their own CubeSats, selects three winners.
Another historical aspect of the EM-1 is that it will be the first time a woman has commanded a launch. NASA's SLS team gave Charlie Blackwell-Thompson advanced congratulations on Twitter.
You can share this story on social media: