'Monumental disaster': California AG suing company behind massive methane leak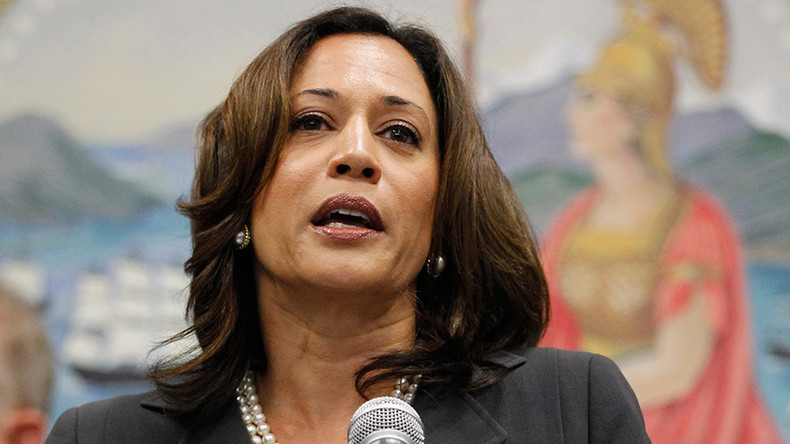 California Attorney General Kamala Harris has filed a lawsuit against the gas company responsible for the methane gas leak near Los Angeles, calling it a "monumental environmental disaster." Over 30 suits and probes related to the disaster are pending.
On Tuesday, Harris joined both Los Angeles City Attorney Mike Feuer and Los Angeles County in a revised civil complaint filed against Southern California Gas Company (SoCal Gas), a subsidiary of the San Diego-based Sempra Energy. The California Air Resources Board, represented by Harris, also joined the lawsuit.
A methane leak from an underground gas storage facility in Aliso Canyon was first detected on October 23 last year, but no official cause has been given for the event that has forced 6,600 homes in the Porter Ranch area of Los Angeles to be evacuated.
"This gas leak has caused significant damage to the Porter Ranch community as well as our statewide efforts to reduce greenhouse gas emissions and slow the impacts of climate change. My office will continue to lead this cross-jurisdictional enforcement action to ensure justice and relief for Californians and our environment," Harris said in a statement on Tuesday.
On Monday, SoCal Gas released an "incident update," citing its own success in drilling past 200 feet of caprock above the storage zone. The next step is more drilling, but will be within the storage reservoir, requiring care and accuracy to intercept the targeted well at "the appropriate angle and depth," the statement read. The goal is to stop the leak by the end of February.
The updated lawsuit contends that by causing the release of some 80,000 metric tons of methane so far, SoCal Gas broke health and safety codes, public nuisance laws, and violated hazardous materials reporting requirements. Furthermore, it alleges the company's business practices were unethical. Civil penalties, injunctions, and restitution are all sought to hold the company accountable.
So far, there are 11 governmental lawsuits or investigations on the local, state and federal level, and 20 private lawsuits waged by affected residents against SoCal Gas.
California Governor Jerry Brown recognized the situation as a state of emergency on January 6.
You can share this story on social media: