NASA's gigantic 'Super Guppy' cargo plane ships spacecraft destined for Mars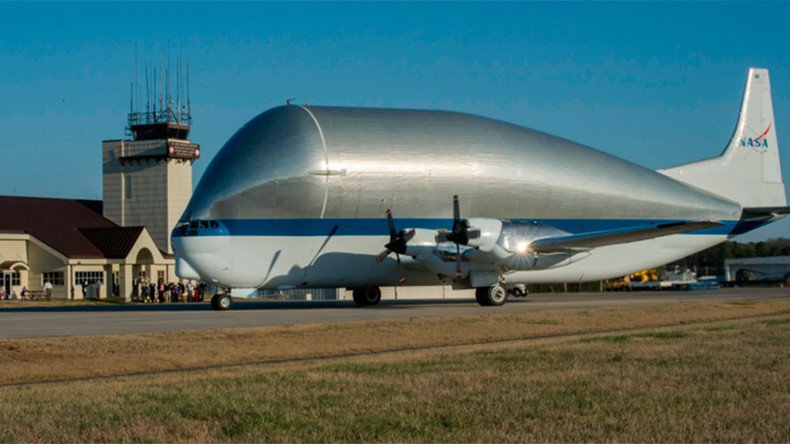 A manned mission to Mars is a little closer after a big move from NASA on Monday. A Super Guppy cargo jet was used to transfer the Orion spacecraft pressure vessel from Louisiana to Florida, where it will conduct a test flight in 2018.
"The pressure vessel will fly on the first integrated launch of Orion and NASA's powerful new rocket, the Space Launch System," NASA posted on its website Monday. "The test flight, which will fly without crew, will demonstrate the agency's new capability to launch future deep space missions, which include missions to an asteroid and Mars."
The pressure vessel will provide life support for the astronauts eventually boarding Orion, NASA's replacement to its Space Shuttle program. Just short of 11 feet tall, Orion will fit four astronauts.
After being upgraded for deep space exploration at the Michoud Assembly Facility in New Orleans, the pressure vessel will be tested at the Kennedy Space Center before finally being aligned with the rest of the Orion spacecraft. But it was the humongous Super Guppy that captured much of the day's attention.
The Super Guppy weighs about 101,500 pounds without cargo, has a hollow interior reaching 25 feet high and wide, is 111 feet long, and can fly weighing around 150,000 pounds. Its nose opens up 200 degrees for large loads.
A test flight known as Exploration Mission-1, scheduled for 2018, will take Orion past the moon and back within three weeks as part of its preparation for a manned mission to Mars and beyond. The test flight will be launched from the largest and most powerful rocket ever built, NASA's Space Launch System.
Last month, NASA welders finished the painstaking work of putting together Orion's seven large aluminum pieces, a process that took a quarter year. Using an advanced method called friction-stir welding, engineers transformed the metals from a solid state to a more "plastic-like" one, at which point they stirred and softened the materials so they would "form a uniform welded joint, a vital requirement of next-generation space hardware," NASA reported.
You can share this story on social media: