Adult marijuana sales soar 184% as weed business blooms across US – report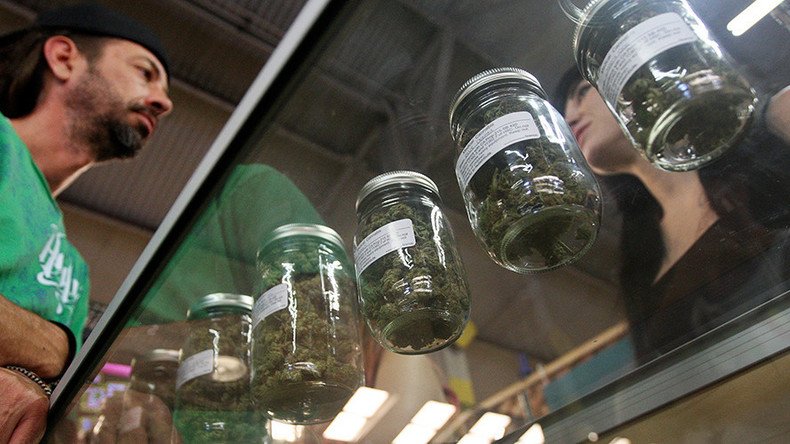 The legal pot trade is reportedly one of the fastest growing markets in the US as sales of marijuana for casual use grew 184 percent in 2015 alone. Overall, cannabis commerce across the country soared to $5.4 billion, according to a new study.
"You won't find another industry growing at that kind of clip," said Troy Dayton, chief executive of the ArcView Group, which issued its fourth edition of the State of Legal Marijuana Markets.
According to the group's market estimate, both medical and adult consumer sales grew from $4.6 billion in 2014 to $5.4 last year, marking 17 percent increase year over year. Adult use sales grew to $998 million from $351 million in 2014, representing 184 percent growth.
Part of the reason for such growth lies in expanding pot legalization. In July 2015, Oregon allowed legal pot sales, joining Colorado and Washington, where cannabis commerce has been legal since 2014.
"Legalization of cannabis is one of greatest business opportunities of our time and it's still early enough to see huge growth," said Dayton.
In 2016, seven more states – California, Nevada, Arizona, Massachusetts, Maine, Rhode Island and Vermont – are expected to decide whether to allow adult recreational use.
For both Colorado and Washington, pot legislation proved a boon for state coffers. For example, Colorado earned $135 million in cannabis taxes and licenses fees in 2015, a 77 percent increase compared to $76 million in 2014. In Washington, $257 million worth of cannabis sales got the state $70 million in tax revenue.
In 2016, four states – Florida, Ohio, Missouri and Pennsylvania – may amend medical laws, which would significantly expand medical marijuana access in the eastern half of the US, the report predicted.
"It is undeniable that cannabis is one of the fastest growing industry in the US. Twenty-three states already permit medical cannabis use, along with four states and the District of Columbia allowing full adult use," said Giadha DeCarcer, founder and CEO of New Frontier, a cannabis Big Data and analytics authority, which also participated in the study.
The trend is expected to continue, with ArcView forecasting 25 percent growth in 2016, to $6.7 billion in sales. Four years from now, by 2020, sales could more than triple and reach $21.8 billion. Adult use would most likely account for 53 percent of sales. For comparison, in 2014 recreational sales stood at just 8 percent.
You can share this story on social media: