More US, coalition forces likely needed to fight ISIS – Pentagon commander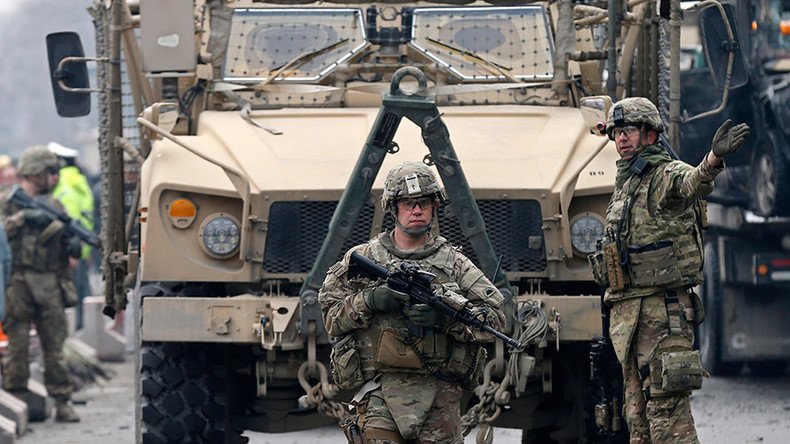 The top US commander for military operations in Iraq and Syria said there is a "good potential" that more American and coalition forces will be needed to fight the Islamic State.
Army Lt. General Sean MacFarland told Pentagon reporters on Monday he is exploring ways to increase pressure on the Islamic State (IS, formerly ISIS/ISIL), the Associated Press reported.
"Some would call them accelerants to the campaign that would allow us to increase the pressure on the enemy," MacFarland said via teleconference. "It doesn't necessarily equate to American boots on the ground. It could be coalition boots on the ground. It could be a capability that doesn't require any significant number of troops on the ground."
But McFarland also said that, "yes, there is a good potential that we will need additional capabilities, additional forces to provide those capabilities. And we're looking at the right mix and we see in consultation with the government of Iraq and our other partners."
MacFarland would not divulge whether an influx of forces would be composed of trainers or combat troops, but the discussion comes as the US-led coalition considers strategies to retake the northern Iraqi city of Mosul, which was captured by ISIS in early 2014, and the Syrian city of Raqqa, which ISIS uses as its headquarters.
"I'd like the enemy to find out about [any additional troops or capabilities] for the first time when the area around them is going up in smoke," said MacFarland.
An NPR reporter asked MacFarland if the timetable for retaking Mosul was set for the end of 2016 or early 2017, as Iraqi generals had mentioned during a briefing in December in Iraq.
"I don't want to put a date out there, because I'm 90 percent sure that whatever date I tell you would be wrong. So let me just say, I would like to get this wrapped up as fast as I possibly can," MacFarland said.
He said coalition forces have trained more than 17,500 Iraqi soldiers and about 2,000 police since training began about a year ago. Another 3,000 soldiers and police are currently in coalition training sites.
"The Iraqi security forces have been rebuilt into a force capable of defeating the type of enemy we are now facing," he added.
During Monday's briefing, MacFarland was also asked about what the military considers acceptable in terms of civilian casualties. Following an attack on an ISIS bank in Mosul last month, the Pentagon said it weighted the cost in civilian lives against the benefit of taking out high-value targets, but declined to detail what it called its "calculus."
"[We] are still bound to same laws of armed conflict…to minimize the potential loss of innocent life…there might have been three people killed in those bank strikes, and pretty sure that those guys were Daesh [Islamic State]…but we struck them at times a day when we were quite sure that we would minimize the loss of life," said MacFarland.
US Central Command (CENTCOM) confirmed on Friday that four airstrikes in Syria and Iraq last year "likely" resulted in five dead and eight injured civilians.
You can share this story on social media: