Ports in NY, NJ grind to a halt after longshoremen strike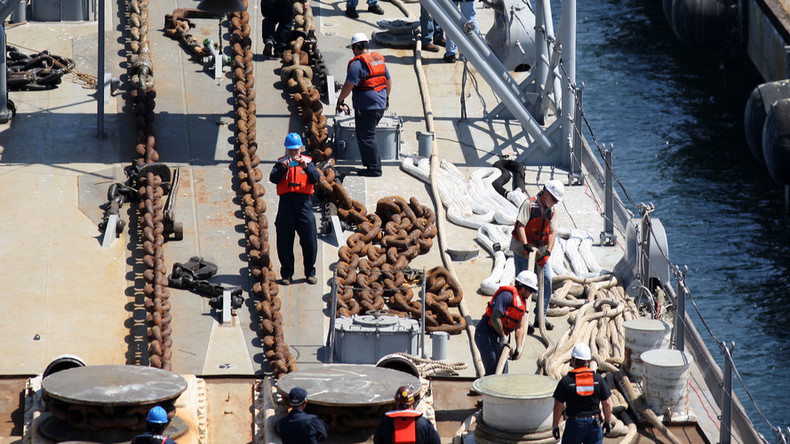 A work stoppage at Port Authority terminals in New York City and New Jersey has all but shut down some of the busiest ports on the East Coast. Over 4,000 longshoremen walked off the job on Friday as part of a strike against the Waterfront Commission.
Work at ports in Elizabeth, Newark, Jersey City, and New York City has ground to a halt, leaving overseas shipments stranded, WCBS 880 has reported. The Port Authority has closed terminals to incoming truck shipments as a result, which has caused heavy traffic jams.
The motives behind the strike are still unclear, as the organizations behind it, such as the International Longshoremen's Association (ILA) and the New York Shipping Association, have yet to comment on the walk-off. However, an unnamed official for the ILA told NBC 4 NY that the strike was prompted by unresolved grievances the union had with the Waterfront Commission of New York Harbor exceeding its role in collective bargaining.
Some of the issues he named were regulations concerning time off following injuries and drug testing protocols. Jim McNamara of the ILA public relations team told NJ.com that the longshoremen "see the [Waterfront Commission] as a threat to their livelihood, making life miserable for longshoremen," adding, "they have gone way beyond their role of licensing to break down the gains of the ILA."
The strike, which seemingly came out of the blue, didn't just catch the Waterfront Commission off guard – even the workers were unprepared. Several told NBC 4 that they had gone to work on Friday as usual, but on arriving were told to await instruction. The peaceful walk-off then took place at around 10 am.
Officials from the Waterfront Commission do not seem amused by the strike. Phoebe Sorial, general counsel for the Waterfront Commission, told NJ.com that the strike is "an illegal walk-off. We did not hear about it beforehand and we don't know why it's happening."
They are not alone in that.
"I can tell you we don't know why they walked off. It came as a surprise to everyone. We're trying to ascertain what's going on," a spokesperson for the New York Shipping Association, which represents other types of dockworkers affected by the longshoremen's strike, told NJ.com.
The ports affected are some of the busiest in the country. The Port Authority system receives nearly 30 percent of all cargo on the East Coast, NBC 4 NY reports. Meanwhile, the result has been felt by others involved in the shipping industry, with hundreds of truckers either idling at gates or stuck inside terminals, some of which are concerned about the effects of losing a day of work.
"Yeah, a lot of money I lost," Kennedy Twaits, a trucker, told NBC 4 NY. "Not only me. Everybody loses money here."
You can share this story on social media: