Airbnb has a 'Netflix & chill' suite in New York City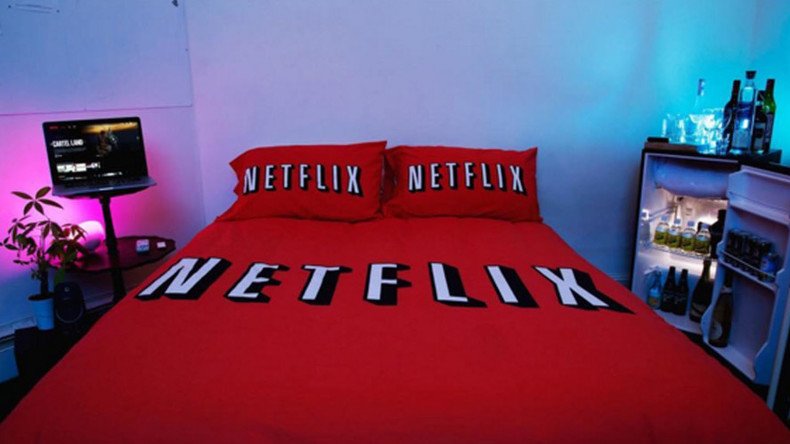 In perhaps what is the most millennial turn of events ever, three New Yorkers gave a one-bedroom apartment a "Netflix and chill" makeover and listed it on Airbnb for $400 a night.
The room is equipped with a heavily Netflix-themed bedspread, a "fully stacked" mini-bar and an HD projector that is (of course) hooked up to a Netflix account with surround sound.
Tom Galle, Moises Sanabria and Alyssa Davis of internet-art company Art404 came up with the idea together and listed the room on Airbnb, an online lodging marketplace, on Wednesday.
"A lot of our work revolves around Internet culture or popular culture. We loved the idea of bringing a meme to life and offer it as a real experience," Galle told Mashable. "The 'Netflix and chill' meme sort of naturally came up as the right subject to build a project around, and the idea grew automatically from there."
Netflix and chill is, of course, a euphemism for inviting someone over to have sex with the streaming service on in the background. However, Galle said that the room is "something different than just going to a hotel" and isn't designed to be for sex more than any other room.
The $400 room can only be rented on Saturday nights, and ‒ though it doesn't really fit with the joke ‒ it also has Apple TV.
And as anyone will tell you, three's a crowd when it comes to Netflix and chill.
"We can't allow you to have additional guest over the apartment, and that is a serious request," the Airbnb listing reads.
As ever, Twitter's reaction to such a novelty was a mixture of wonder and humor.
You can share this story on social media: