Russian fighter jet intercepts US recon aircraft over Black Sea 'in unsafe manner'– Navy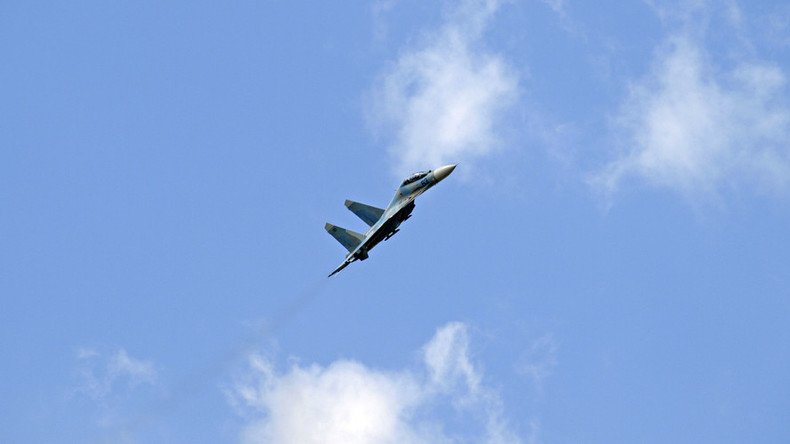 A Russian fighter jet intercepted a US Air Force reconnaissance aircraft over the Black Sea in an "unsafe and unprofessional manner," as it approached too close to the spy plane, US defense officials told the media.
"On January 25, 2016, a U.S. RC-135U flying a routine route in international airspace over the Black Sea was intercepted by a Russian Su-27 in an unsafe and unprofessional manner. We are looking into this particular incident," Navy Captain Daniel Hernandez, chief spokesman for the US European Command, told the Washington Free Beacon Thursday.
According to US officials, a Russian jet approached the US aircraft in international airspace over the Black Sea and flew alongside it for some time. After that, the jet performed what US officials described as "an aggressive maneuver" when turning away from the intelligence plane.
The jet's thrust "disturbed the controllability" of the US aircraft as it was turning away after coming about "20 feet [6 meters] within the US RC-135 reconnaissance aircraft," US media report, citing defense officials.
The RC-135U Combat Sent was "flying a routine route in international airspace over the Black Sea" more than 40 miles (64 kilometers) from the Russian coast when the incident occurred.
"Aircraft intercepts are not unusual, but are normally routine events," Army Lieutenant Colonel Michelle L. Baldanza, a Defense spokeswoman, said as quoted by The Hill Friday.
"In this case the intercept was not routine, and the Russian pilot acted in an unprofessional manner that put both the American flight crew and himself at risk. We have addressed our concerns on this matter appropriately," she added.
The Russian military has not commented on the reports.
In the meantime, top defense officials from the US and Russia discussed issues related to military safety in Syrian air space during a video conference on Thursday. It is unclear, however, if Monday's incident was on the agenda.
"No specific incident or event prompted today's discussion," Baldanza said, referring to the video-conference.
During the conference, the two sides discussed "measures to enhance operational safety ... including the means to avoid accidents and unintended confrontation" in Syrian airspace, as well as the ongoing implementation of the US-Russia memorandum of understanding (MOU) on flight safety, according to the Pentagon statement.
The RC-135U is a four-engine jet used in "locating and identifying foreign military land, naval and airborne radar signals" from potential adversaries in order to develop countermeasures, US media report citing the US Air Force.
The latest incident comes as both Russia and NATO have been accusing each other of increased military activity in close proximity to each other's territories. During the presentation of the alliance's 2015 report, NATO Secretary General Jens Stoltenberg spoke of an increased presence of Russian aircraft flying near alliance territory without flight plans that had prompted NATO forces to scramble jets more than 400 times in 2015.
Meanwhile, Russian defense officials have reported a drastic increase in US surveillance flights near Russia's borders since 2014. "US RC-135 reconnaissance aircraft carry out flights almost daily," Colonel General Viktor Bondarev, commander-in-chief of the Russian Air Space Forces said in late 2014, adding that "in 2014, more than 140 RC-135 flights have taken place compared to 22 flights in 2013."
Monday's incident was the latest in a series of similar close encounters involving Russian fighter jets and US RC-135 recon planes. One occurred over the Baltic Sea on April 7, 2015, and another over the Black Sea on May 30 of the same year, according to the Washington Free Beacon.
In addition, a 2014 incident, when a Russian Su-27 flew within 100 feet (30 meters) of yet another RC-135U over the Sea of Okhotsk between Russia and Japan, was called "one of the most dangerous close passes in decades" by US officials.
You can share this story on social media: