I don't heart Huckabee: Adele mutes GOP candidate's 'Hello'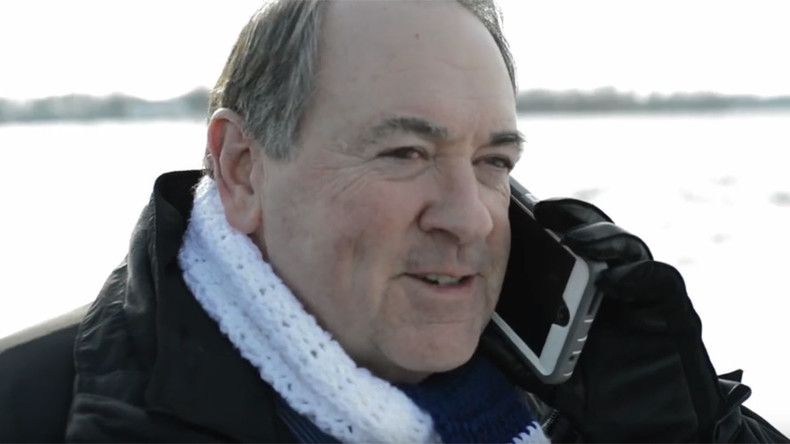 Singer Adele has done what many following the US presidential campaign wish they could do - mute a candidate.
In what was seen as a last ditch attempt by a struggling campaign, Republican presidential 'hopeful' Mike Huckabee released a "cringeworthy" parody of Adele's megahit called Hello Huck.
It turns out Adele, or a copyright-infringement-detecting algorithm/attorney, wasn't too impressed by Huckabee's cover and muted the audio on the YouTube video, which was viewed more than 380,000 times.
Awkward.
"This is protected free speech under the First Amendment, because it's political parody," Huckabee told Fox News. "Some people loved it, some people quite frankly hated it, said it was cringeworthy and they thought it was awful."
I can't stop watching the Hello, Huck campaign video.

— Favor single girl (@CubesandCats) January 29, 2016
The video features the former Arkansas governor speaking into a phone as a female vocalist sings about the race, Iowa, and the Woodbury County Supper Club's baked beans. The memorable line is "If Bernie wins I'm going to die".
Oh no! He did it. I have tried for 24 hours to get "Hello Huck" out of my head! #GOPDebate

— Kate Bryan (@katembryan) January 29, 2016
It also includes a clip of Democratic candidate Hillary Clinton dancing on the TV show Ellen and text messages from fellow GOP candidate Ted Cruz who says, "Huck, I'm NOT Czech! I'm Canadian!"
UPDATE: Apparently, Huckabee's people and Adele's people came to an agreement, because a new, unmuted version of the parody is now back on YouTube.
FURTHER UPDATE: The video has now been taken down altogether.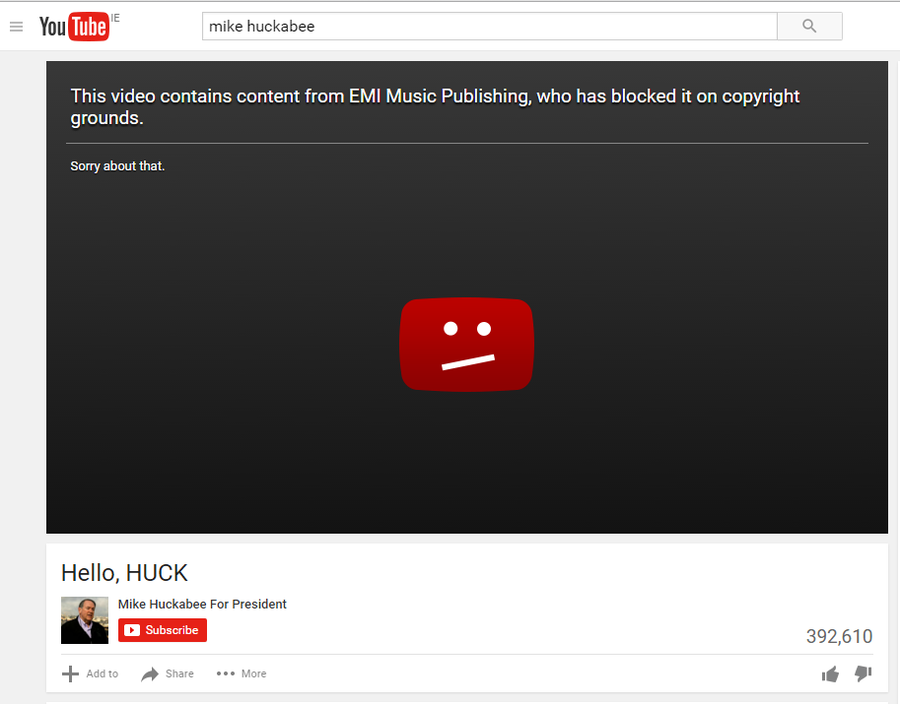 Huckabee isn't the first politician to get in trouble for using music without permission.
Alt-rockers REM told Donald Trump not to use "It's The End of the World as We Know It" for his "moronic charade of a campaign".
When Canadian legend Neil Young attempted to stop Trump from using his iconic "Rockin' in the Free World", the billionaire candidate called him a "total hypocrite" and tweeted a photo of the two meeting about possibly funding one of Young's project.
Another Canadian named Neil, Rush drummer Neil Peart, sent a 'cease-and-desist' letter GOP candidate Rand Paul after he used "Tom Sawyer", saying it was obvious the Kentucky senator "hates women and brown people".
You can share this story on social media: