McCain accuses Pentagon of benefiting 'Putin's friends' by buying Russian rocket engines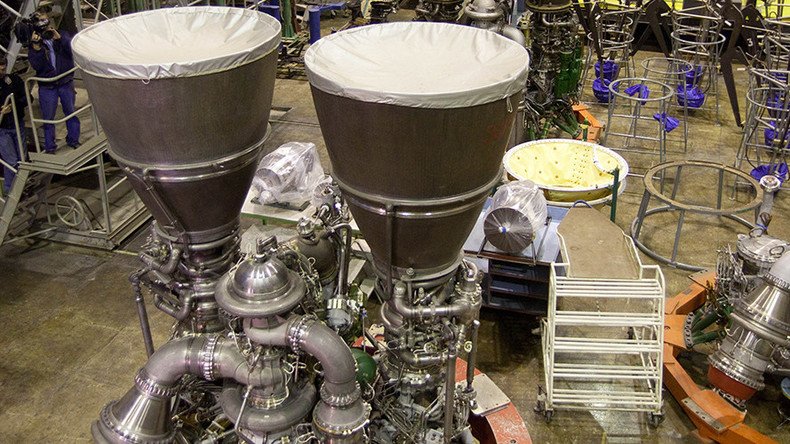 Senator John McCain has told Pentagon officials he will seek to reinstate a ban on buying Russian-made RD-180 rocket engines, which the US military uses in Atlas-V rockets to put satellites into orbit. He claimed each purchase lines the pockets of President Vladimir Putin's inner circle.
McCain, the chair of the US Senate Armed Services Committee, and Republican majority leader Kevin McCarthy will on Thursday introduce legislation that would re-impose a ban on the US using Russian rocket engines. The ban was first introduced in the 2015 National Defense Authorization Act but effectively overturned by the 2016 NDAA passed in December, authorizing Atlas-V producer, the United Launch Alliance, to purchase more RD-180s.
Air Force Secretary Deborah James and Pentagon acquisition chief Frank Kendall sought to defend the use of Russian rocket engines before hawkish legislators on Wednesday. McCain, his voice rising at times, claimed that each $30 million RD-180 purchase enriched Russian Putin and senior Russian officials.
"So we now have senior Russian politicians, friends of Vladimir Putin, that are making tens of millions dollars in the pass-through money that is paid for the Russian rocket engines," McCain said.
James responded that she couldn't be certain whether any Russian officials directly benefited from rocket engine sales. She added that replacing Russian-made engines with American ones had proved to be more complicated than expected, and she recommended maintaining a stockpile of 18 RD-180s to ensure that the Pentagon's space mission schedule would not be compromised.
The Russian engine was developed in the 1990s and derived from the RD-170 design, the world's most powerful liquid-fuel rocket engine, which was used for the Soviet Energia launch vehicle. So far Russia has produced it exclusively for the Atlas rocket family, with the Americans praising the engine for its superb combination of performance, cost efficiency and schedule availability.
McCain accused the Pentagon, ULA and two senators supporting the company – Richard Shelby and Dick Durbin – of actively undermining his committee's effort to end the use of Russian engines. Both of them are members of the Senate Appropriations Committee, which decides on the acquisitions. The Armed Services Committee's task is to authorize purchases.
"Everybody's a crook to John McCain," AP quoted Durbin as saying. "You can disagree with him on policy and automatically you're a crook."
The senator added that the senatorial ban prevented ULA, an alliance between Boeing and Lockheed Martin, from bidding on military contracts leaving the company SpaceX as the sole supplier for the launches. SpaceX is based in Hawthorne, California, McCarthy's home state.
"The problem is the only way ULA can compete right now is with a rocket engine made in Russia," Durbin said.
You can share this story on social media: