3 random slashings reported in NYC subway stations this week as knife attacks increase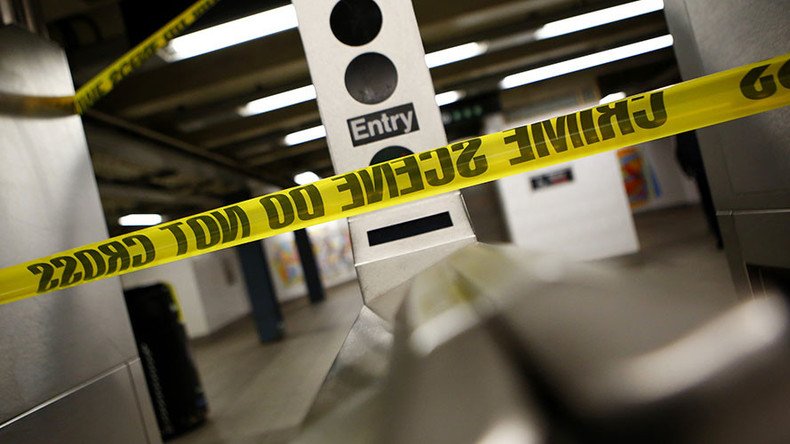 New York police found no connection between three knife attacks in subway stations this week where victims, one as old as 71, were lacerated on the hand, face, or buttocks. The rate of these types of assaults is up 15 percent from the same period in 2015.
On Tuesday night, 29-year-old Natalie Lewis was attacked by a man with a 2-foot-long machete, as witnesses described it, police sources told the New York Post. Lewis was on the No. 3 train going towards Brooklyn when, according to witnesses, he threatened, among other things, to "chop you up on this train!"
The attacker, who was wearing a green hat at the time, had reportedly bumped into the victim at the Atlantic Avenue-Barclays Center station at about 9:30 pm.
"I'll find your a– at home!" the slasher told Lewis as she captured his image with her cell phone, the unnamed sources told The Post.
"The police aren't here now. You're trying to get help from the crowd. They can't help you! I can just chop you and they can't do nothing!" the man continued, before pulling out a machete from his black messenger bag. He wielded the weapon at her twice, striking her right hand the second time, leaving a 2-inch wound which didn't require stitches.
Also on Tuesday and nearly at the same time, 32-year-old Christopher Santiago had his face slashed by a random knife attack at a station in East Harlem. The suspect has not been caught, and Santiago ended up at a nearby hospital to receive stitches, The Post reported.
Another facial injury was suffered on Monday at about 7:15 am, when 71-year-old Carmen Rivera was riding a train in the East Village. Her attacker had been sitting across from her, seemingly waiting, and when the doors opened at a stop, he lunged at her, leaving a 4-inch slit across her cheek.
Rivera's attacker, 21-year old Damon Knowles, was arrested on Tuesday evening and charged with two counts of assault, one with intent to cause disfigurement, and another with intent to cause serious physical injury.
"She wants justice done and she wants to talk to [the suspect] face to face to see why he did that," Rivera's sister Amelia, 72, told The Post.
"[Investigators] were looking at them all for any connection, but there is none," the Post cited its police source as saying. "And there's no belief it's gang-related."
At least 10 knife attacks have gone unsolved by police since October, according to the New York Daily News. New York City has suffered nearly 300 stabbings since 2016 began, an uptick of 15 percent, according to the New York Police Department.
You can share this story on social media: