'Heil Trumpler': Protester throws tomatoes at Trump during Iowa rally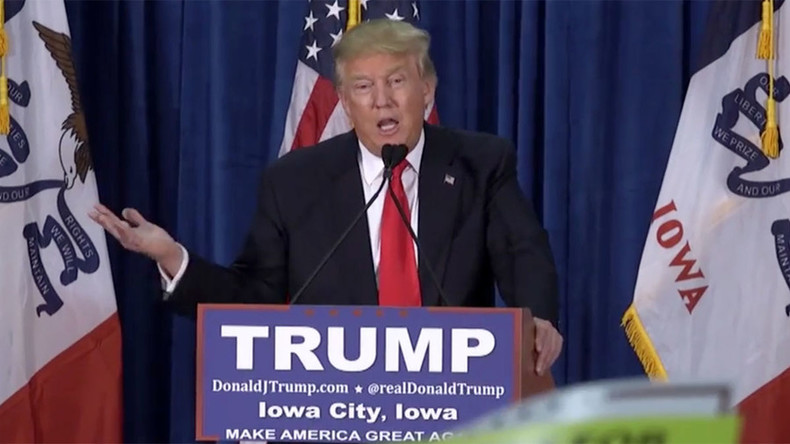 Republican presidential hopeful Donald Trump's rallies have long attracted protesters, but this time the candidate's podium was narrowly missed by flying tomatoes.
The tomatoes were thrown by a protester after the real estate magnate referred to Democratic candidate Bernie Sanders as a communist at a Tuesday evening rally in Iowa City, Iowa.
Two tomatoes can be seen flying past the candidate in the very beginning of the following video.
Andrew Joseph Alemao, a 28-year-old man, was arrested on the spot for disorderly conduct after throwing the produce at Trump, according to KCRG.
Another protester who was forced out of the gathering was wearing a shirt reading "HEIL TRUMPLER 2016."

"It's unbelievable! Get him out," Trump said as the man left the rally.
Protesters at the businessman's campaign event had an even heavier presence than usual, prompting the candidate to comment on it.
"The reason I like protesters is because the cameras – I thought [cameras] were like a thing they couldn't move. But whenever there's a protester, they turn like a pretzel," Trump told the audience. "Because it's a negative thought, so they turn. So people see how big our crowds are. So anyone who wants to protest, go ahead, it's fine."
Despite inviting protesters to give him that kind of media coverage, the billionaire was forced to make an early exit ‒ only 40 minutes into his speech ‒ due to constant disruptions by protesters.
Though disorderly conduct is a misdemeanor punishable by a fine up to $625 and/or imprisonment of up to 30 days in Iowa, Alemao won over the jury in the court of public opinion that is social media.
do I think it was ok for that man to throw a tomato at trump? No. Do I find it hilarious? You betta believe it.

— Lillie Ostwinkle (@l_ostwinkle) January 27, 2016
Too bad that tomato that was thrown at Trump wasn't a bullet..

— Voix Sereines (@YourPainAintLuv) January 27, 2016
You can share this story on social media: