Against the odds: Sanders gets foot in the White House door… to meet Obama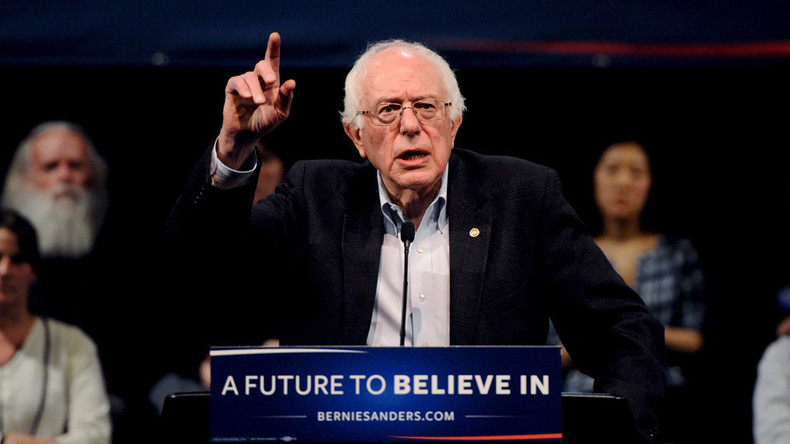 Eight months and two days after US Senator Bernie Sanders launched his "political revolution" and White House bid, the left-wing politician has taken a seat in the Oval Office– albeit only for a private meeting with President Barack Obama.
The purpose Wednesday's "informal" meeting was to get an update on current events by the commander-in-chief, Sanders told reporters.
"It was just a discussion to get myself updated on some of the current issues facing this country," Sanders said. "How we most effectively deal with ISIS, his assessment of Iran, how we work with Iran."
The Vermont state senator is steadily closing the gap on his Democratic rival and former 'sure thing' Hillary Clinton for the party's nomination.
With just a week to go until Americans begin to sort the political wheat from the chaff at party primaries and caucuses, a recent CNN/ORC International poll shows the Democratic head-to-head is the closest it has been since September – with Clinton at 52 percent to Sanders' 38 percent.
When pressed about his stance on foreign policy compared to Obama's, he used it as an opportunity to distinguish himself from his rival.
"I voted against the war in Iraq, that's the major difference between myself and Secretary Clinton. I went to too many funerals of young people,"the Vermont senator told reporters after his White House visit, adding that he believes that the president is doing the right thing in trying to wind down Middle Eastern conflicts.
However, the self-described socialist said that he doesn't think that President Obama is favoring Hillary Clinton's bid for the White House, despite being her serving as Secretary of State under the administration.
"I don't believe that at all. I think that [Obama] and the vice president have tried to be fair and even-handed in the process and I expect them to remain that way."
It's a remarkable turnaround for Sanders, who has battled a media wall of silence throughout his campaign and last year could barely get his face on television.
Last year's Tyndall Report measuring the airtime given to presidential candidates on ABC, CBS and NBC new channels found Bernie Sanders received less coverage than even Democratic non-candidate Joe Biden.
Yes, that's right: Sanders was considered so toxic by areas of the mainstream American news that Biden NOT running was deemed more newsworthy (73 minutes of airtime) than Sanders' policies or campaign (20 minutes of airtime).
Furthermore, Media Matters America estimate Donald Trump reports received over 23 times the network coverage of Bernie Sanders.
Even fellow Democrats have had the knives out for the 74-year-old.
In an article in the New York Times, Democratic Missouri Governor Jay Nixon appeared to suggest longshot Sanders wasn't mainstream enough.
"Here in the heartland, we like our politician in the mainstream, and he is not - he's socialist.
"He's entitled to his positions, and it's a big tent party, but as far as having him at the top of the ticket, it would be a meltdown all the way down the ballot."
But the presidential invite is perhaps a sign of Sanders' growing popularity, despite failing to hog the headlines.
The White House is keeping quiet about what will be discussed at Wednesday's meeting, only saying the gathering has been in the pipeline since December.
It's well-known that President Obama likes to take time out from all that important political stuff...
You can share this story on social media: