San Diego naval medical center on lockdown after shots reported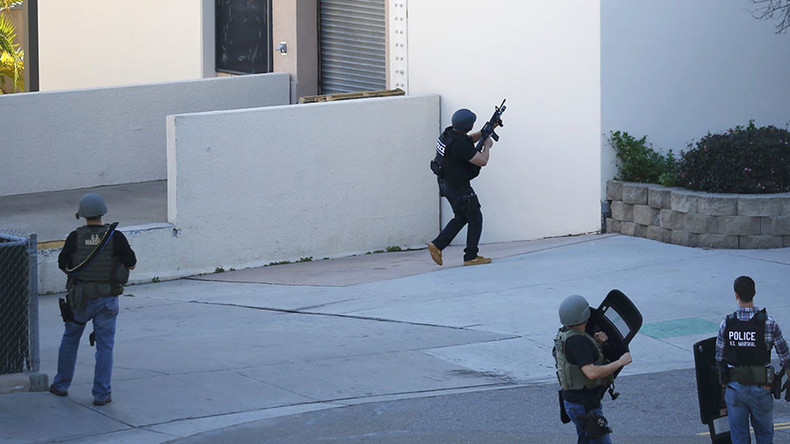 Naval Medical Center San Diego was put on lockdown after reports of an active shooter. Authorities advised all occupants "to run, hide or fight." The alert was posted on the center's Facebook page.
In a Facebook post made at 8:10 a.m. on Tuesday, Naval Medical Center San Diego said that an active shooter was reported "in building #26 at Naval Medical Center San Diego. All occupants are advised to run, hide or fight."
They advised non-emergency personnel to stay away from the facility.
The San Diego Police Department said that hospital officials reported shots fired on the premises, but details are still unclear. No deaths or injuries have been reported.
"According to initial reports of a single witness, at approximately 8 a.m. this morning three shorts were reportedly heard in the basement of Building 26, a combination gym/barracks, at the Navy's Medical Center Balboa Park facility," Navy Region Southwest said in a statement.
"First responders and Navy working dog units are on scene clearing Building 26. The Medical Center is on lockdown and a shelter in place order has been given."
However, investigators have found "absolutely nothing" to substantiate a report that a gun was fired at the facility, Navy Capt. Curt Jones said, according to CNN.
He said that the incident was a case of "someone who thought they heard something and made reports."
State highway patrol and a SWAT team arrived on the scene, in addition to the Navy Criminal Investigation Unit (NCIS).
The NMCSD staff has regular training to prepare for active shooter situations.
The nearby Naval Base Point Loma and Naval Base Coronado have been placed on lockdown. Garfield Middle School, San Diego High School and Roosevelt Middle School are also on lockdown as precautions. San Diego City College, however, is not on lockdown.
NMCSD confirmed that its daycare center is secured.
"For all concerned, the childcare facilities at NMC are currently secured. All children are accounted for and safe," a Navy spokesman said.
A local Fox affiliate reported that someone fired a gun into the air three times at the barracks, but nobody was hurt.
Authorities performed a room-by-room sweep looking for the person responsible.
Personnel at building 26 were evacuated from the facility with their hands raised and were patted down by security personnel.
You can share this story on social media: