Severe blizzard & thundersnow captured from space cloaking East Coast (PHOTOS)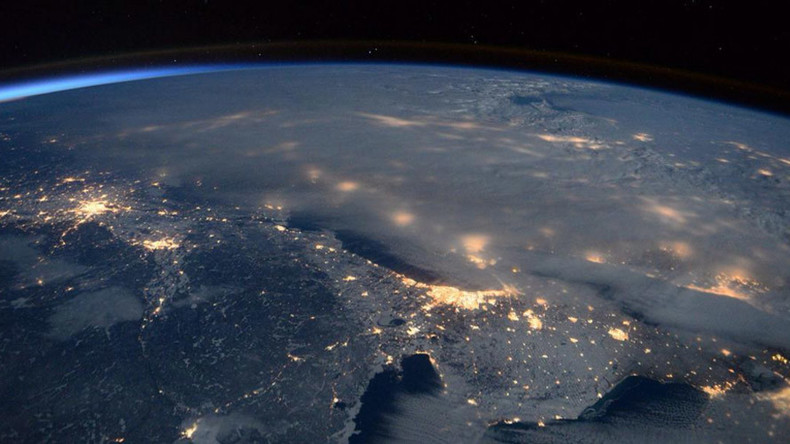 US astronaut Scott Kelly has managed to capture a series of impressive shots of winter storm Jonas – including a rare picture of Thundersnow – as it paralyzed much of the East Coast of the United States, killing at least 19 people in its wake.
NASA astronaut Scott Kelly made his first post on Twitter early in the morning showing a rare glimpse of the weather front that descended like a like veil on the eastern US. Just a few city lights forming a picture of electric-like discharge are visible through a thick white layer on the first tweet.
Wishing for people on the East coast to "stay safe", Kelly checked in with another tweet about an hour later, saying that the blizzard had "a long way" to go as Jonas ripped through Chicago.

Three hours later another shot from the ISS, transmitted by Kelly, revealed a rare shot of thunder inside the snowy storm front that looks like a mountain range covering the entire US East coast. The astronaut hashtagged the snapshot as #Snowzilla.
Down on Earth More than 80 million people suffered because of the storm on the ground, with at least 19 people reported dead across Eastern states in Tennessee, Kentucky, Maryland, North Carolina and Virginia due to winter storm conditions.
The US' largest city, New York, remained under a travel ban Saturday as the blizzard left major city travel infrastructure largely paralyzed.
Eleven states from Georgia to New York declared states of emergency. According to the Weather Channel, some 250,000 customers were without power on the East Coast. More than 10,000 flight have been canceled by Saturday afternoon across Jonas-hit areas.
Winter Storm Jonas should move off the Atlantic coast before sunrise Sunday, leaving clearer skies for the day.
You can share this story on social media: